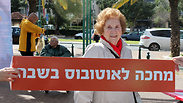 Protest for public transport on Shabbat
Photo: Uriel Lunke
A group of Jerusalemites, who are angry at Transportation Minister Israel Katz for refusing to allow public transportation on Saturdays and holidays, have taken it upon themselves to provide an alternative - the "Shabus."

This bus service, which will start running in the capital from 8 pm Friday night, will be limited to members of a cooperative, who will have to pay a NIS 50 a year membership fee.

So far, 500 people signed up for the service and paid the membership fees online.

To launch the bus line, the cooperative raised over NIS 110,000 via crowd-funding website Headstart.

"We studied the law and searched for the golden path between the Transportation Ministry's refusal to give licenses to operate public transportation on Shabbat and the needs of many Jerusalemites," said Hovev Yanay, one of the cooperative's founders.

At first, the service will be free for cooperative members, but starting June they will have to pay NIS 12 per ride.

The first bus line will run from the city center to Pisgat Ze'ev, and back through Talpiot, Beit HaKerem and the French Hill. It will run from sundown Friday until 2 am Saturday, with new buses leaving every hour. The buses will be rented by the cooperative, and the drivers will be non-Jews.

The "Shabus" initiative received requests to operate the service in Tel Aviv, Rishon LeZion and Kfar Saba, as well as add more lines in Jerusalem and extend the hours of operation.

"The members will decide on the next stage," Yanay said in response to requests.