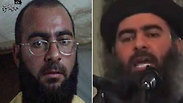 Abu Bakr al-Baghdadi last year (right) and several years prior
Photo: MCT
Abu Alaa al-Afri, who is said to be the acting leader of the Islamic State after leader Abu Bakr al-Baghdadi was reportedly gravely wounded in an assassination attempt, is a mysterious figure on whom very little credible information is available.

He was al-Baghdadi's second-in-command, and even before al-Baghdadi's reported incapacitating injury, al-Afri had a dominant role in the terror organization's leadership. But beyond that - very little is known about him.

On Friday, British newspaper the Guardian reported that Islamic State leader Abu Bakr al-Baghdadi became incapacitated by a spinal injury sustained in an airstrike in March by the US-led coalition in western Iraq.

According to the report, al-Baghdadi is receiving treatment from two doctors from the city of Mosul, but he may not be able to return to the helm of the organization. For now, at least, al-Baghdadi's deputy al-Afri has taken command.

Whether the report in the Guardian is accurate or not, reports of al-Baghdadi's severe injury have increased recently, and the belief that al-Afri is now in command has been common even before Friday's report.

Al-Afri, a former physics teacher whose age is unknown, was born in the city al-Khidr, some 80 km south of Mosul, the strategic Iraqi city under Islamic State control since last summer.

Like al-Baghdadi, al-Afri has been a member of al-Qaeda - the organization that later spawned the Islamic State - for years. In 1998 he went to Afghanistan, and later made his way up the ranks of al-Qaeda. He was loyal to the organizations' Iraqi branch leader, Abu Musab al-Zarqawi.

In 2006, al-Afri was reportedly one of the founders of the Mujahideen Shura Council of Iraq, a jihadi group fighting the US armed forces that invaded Iraq and overthrew Saddam Hussein's regime.

He was arrested by the US army and imprisoned in American prisons in Iraq, but released later on. While he was imprisoned, he conducted sermons to the prisoners, many of which were affected by his radical positions. Some later joined the Islamic State and other jihad organizations.

Some say that after senior Iraqi al-Qaeda leaders Abu Omar al-Baghdadi and Abu Ayyub al-Masri were killed in 2010, al-Afri became Osama Bin-Laden's top candidate to lead al-Qaeda's Iraqi branch, which is indicative of his popularity among jihadi leaders.

Dr Hisham al-Hashimi, an adviser to the Iraqi government, told American magazine Newsweek a few days ago that al-Afri's position in the Islamic State is better today than that of declared leader Abu Bakr al-Baghdadi.

Al-Afri is "more important, and smarter, and with better relationships. He is a good public speaker and strong charisma," al-Hashimi told Newsweek. "All the leaders of Daesh find that he has much jihadi wisdom, and good capability at leadership and administration," he added, using the Islamic State's Arabic-language name.

Iraqi officials say that when al-Afri was in charge of the sharia authorities in northern Iraq, he was very strict.

Hassan Hassan, who co-authored "ISIS: Inside the Army of Terror," said al-Afri became particularly dominant in recent months after the organization suffered a tactical defeat in Syria and Iraq, and has replaced ISIS Syria governor Abu Ali al-Anbari as al-Baghdadi's top man.

According to Newsweek, unlike other senior leaders in ISIS, al-Afri is leaning towards reconciliation with al-Qaeda-affiliated jihadist organization Jabhat al-Nusra, which is considered the Islamic State's main rival in Syria.

He is also in favor of equally dividing the leadership of ISIS between its Arab operatives and foreign operatives who joined the Islamic State en masse from across the world.

Hassan noted al-Afri's rise to power as the organization's official leader should not be perceived as the overthrowing of al-Baghdadi, as even before al-Baghdadi's injury, al-Afri served as a "supreme leader" for the organization and it was his generals who steered ISIS' military moves. Past reports characterized al-Baghdadi as the Islamic state's "spiritual leader," noting his appointment as the head of ISIS was mostly meant to give the organization a religious seal of approval.

And if approval was the key factor, then al-Afri might face a real problem due to his Turkmen origins. Alquds Alarabi newspaper claimed this week that al-Afri cannot be the Islamic State's caliph because he is neither Arab not Hashemite.