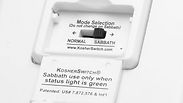 Shabbat observant Jew can now control electricity in their home during the holy day of rest without desecrating the Shabbat using a new invention called KosherSwitch.

The KosherSwitch is not connected to electricity and instead implements the moving of an isolated piece of plastic to turn the lights on or off.

The device activates at random intervals, using an internal light pulse to determine whether the switch is on or off. If the KosherSwitch has been turned on, the lights will turn on as well.

According to developer Menashe Kalati, the KosherSwitch employs a "complete electro-mechanical isolation," adding "several layers of Halachic uncertainty, randomness, and delays, such that according to Jewish law,

a user's action is not considered to have caused a given reaction," so it is impossible to desecrate the Shabbat.

The KosherSwitch has been years in development, and Kalati says he consulted with many Torah giants, receiving the endorsement of 29 rabbis.

Kalati also says the KosherSwitch pays for itself and helps the environment thanks to the electricity in saves.