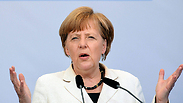 Germany cannot simply draw a line under its Nazi past and must remain sensitive to the damage it caused to other countries including Greece, Chancellor Angela Merkel said on Saturday, just ahead of the 70th anniversary of the end of World War Two.

Speaking in her weekly podcast, Merkel said she was looking forward to a May 10 memorial in Moscow with Russian President Vladimir Putin. She and other leaders have said they will not attend Russia's traditional May 9 military parade amid tensions with Moscow over its annexation of Crimea and fighting in Ukraine.

In the German capital, the 70th anniversary of the end of the Battle of Berlin, the climactic battle of the war, was marked in tributes on Saturday. The war ended on May 8, 1945.

"There's no drawing a line under the history," Merkel said, dismissing a yearning that many post-war generations of Germans harbor.




"We can see that in the Greece debate and in other European countries. We Germans have a special responsibility to be alert, sensitive and aware of what we did during the Nazi era and about lasting damage caused in other countries. I've got tremendous sympathy for that."

Also on Saturday, President Joachim Gauck, who has little real power, reignited a debate over reparations, saying Germany should consider Greece's demands for 279 billion euros ($312 billion) in reparations for the Nazi occupation.

Greece's calls have fallen on deaf ears in Berlin, even though legal experts say it has a case. Merkel's government says has paid its obligations to Greece, including a 115 million deutsche mark payment in 1960.

"It's the right thing to do for a history-conscious country like ours to consider what possibilities there might be for reparations," Gauck told the Sueddeutsche Zeitung.

Post-war German governments have paid a total of 71 billion euros for damages caused by the Nazis, the Finance Ministry says.

Gauck also said Germans should reexamine other forgotten aspects to the war.

"We've truly done a lot in coming to terms with our Nazi past. But are some victims that haven't been taken into account at all or sufficiently -- such as the Soviet prisoners of war."

The specter of the Nazi era still haunts Germany in the form of neo-Nazis, who regularly demonstrate against immigrants and asylum seekers and occasionally turn violent.

One member of such a far-right group is currently on trial for the deaths of eight Turks and a Greek.

At a union rally in Weimar on Thursday, four people were injured and 29 people detained after far-right protesters stormed the speaker's podium, took the microphone and shouted Nazi slogans.