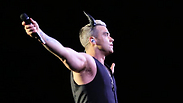 Robbie Williams
Photo: Yaron Brener
The summer concert season officially launched in Israel on Saturday night with British pop star Robbie Williams, who arrived in Tel Aviv as part of his latest international tour.

Some 40,000 fans turned out to the Yarkon Park to watch the UK sensation in his first Israeli show.




Williams took the stage accompanied by video-art projected onto massive screens behind him and opened with the blockbuster "Let Me Entertain You."

Turning to the captivated crowd, Williams called out "Do you feel me, Israel?" before launching into the next song in the set list – "Rock DJ".

Ami Friedman contributed to this report.