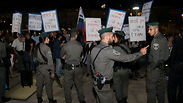 Protestors and security at Habima Square
Photo: Eli Segel
Around 100 activists protested on Saturday night at Tel Aviv's Habima Square against the government's decision to send African asylum seekers to a third-party country.

The rally came on the heels of a 1,000-person-strong protest in Jerusalem on Thursday against "racism and violence towards Israel's Ethiopians", following two incidents of police brutality on minority youths. The protestors clashed with police, and another demonstration has been scheduled for Sunday in Tel Aviv.


On Saturday, a counter-protest attracted about 100 residents of south Tel Aviv to the square. These supporters of the government's plan held signs bearing slogans such as "Yes to deportation, as soon as possible".

Sharon Livneh, a human rights activist who protested against the plan, said she was there to decry further deterioration in the treatment of asylum seekers.

"The Immigration Authority basically announced that it would not only continue to make their lives miserable here, but are about to deport them," she said. She said she had received information about several asylum seekers who were returned to Sudan and killed by authorities.

"People whom some of us knew, after being taken to the Holot prison in very difficult conditions, decided to leave for a third country – so they tossed them there without rights or status. We urge the new government to come to its senses, to implement international standards and to show a little compassion. We were once refugees as well. We know what it means."

Sigal Avivi, another protestor, also said she heard reports about people she knew being killed after returning to Sudan and Eritrea.

She explained that the state claims there is a third country that can guarantee safety for asylum seekers, and that on Friday refugees began to be held indefinitely at Saharonim Prison.

"We agree with the residents of south Tel Aviv," she said. "But our message is simple – it's not possible to send people to countries that endanger them. Israel is acting in contradiction to the Refugee Convention."

Shefi Paz of Tel Aviv's Shapira neighborhood argued by contrast that she and her neighbors were "fighting these organizations all the time because they seek to stop any attempt by the government to find a solution to the difficult reality in which we live. We demand to get them out of our neighborhoods. That is the only acceptable solution."

Another protestor opposed to the presence of the asylum seekers said she was demonstrating "against left wing organizations that support infiltrators. We have lost our security, our peace, and the character of our neighborhoods… We're tired of it – every day rape, drugs, and alcohol. They're not refugees, they're infiltrators.

"We say 'yes' to deportation. Let them check – those who are refugees can get rights, but those who aren't should return to their countries."