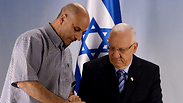 President Rivlin also participates in course
Photo: GPO
Fifty new MKs and ministers will undergo a course training them how to effectively convey their rhetoric and how to appear in front of a camera.

A team of experts from the Government Press Office (GPO) will help prepare the new politicians to face the media - both in Hebrew and more crucially, in English.

The course will teach first-time MKs about different kinds of interviews, the proper body language to use while talking to the media, and help them develop communication techniques to properly convey their messages and deal with difficult questions and crises.

The GPO has been training dozens of MKs, regional council leaders, ministry directors-general, government spokespeople and other public service officials since 2013, teaching them how to be "telegenic."

Michelle Stein Teer, a communication and media expert who teaches public speaking at Bar-Ilan University and a doctoral student of political rhetoric, is one of the teachers at the GPO course.

"The goal of the new course is to help our new public representatives to upgrade their appearance in front of an audience and in front of a camera," Stein Teer explained. "We want to give them an effective rhetoric toolbox that raises their awareness to the connection between verbal and non-verbal messages. Rhetoric is a technique of conveying convincing messages and a central tool of governance."

GPO director Nitzan Chen, who also teaches at the course, added: "The GPO realizes the important and critical contribution of this training to Israeli hasbara (PR) worldwide. One of our focuses is on the English language. In their role as senior Israeli officials and public representatives, our MKs are required to communicate with foreign visitors who come to the Knesset, or they are called to represent the country abroad. The better, more effective their rhetoric, the better Israel looks."