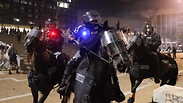 Mounted police in Tel Aviv
Photo: Motti Kimchi
At least 46 people were wounded, including at least 23 law enforcement officers, in clashes at Tel Aviv's Rabin Square on Sunday evening. Atr least 26 people were arrested. Thousands protested in Tel Aviv on Sunday against treatment of Israeli Ethiopians, days after a similar rally in Jerusalem that followed two incidents of apparent police brutality.
Demonstrators snarled traffic throughout central Tel Aviv, causing the major Ayalon Highway to be closed for three hours. The protest moved to Rabin Square, where Tel Aviv's city hall is located, in the evening.
Protest at Rabin Square on Sunday night (צילום: איתי בלומנטל)
Crowd on steps at Rabin Square (צילום: יוגב אטיאס)
Violent clashes broke out at the square, wounding 11 police officers and four demonstrators. Police officers used stun grenades and pepper spray in an attempt to disperse the crowd after rioters turned over a police cruiser.
Some demonstrators threw stones and bottles towards law enforcement, and some had their faces covered. The police summoned the Public Security Minister and the district commander to city hall.
Prime Minister Benjamin Netanyahu met with Public Security Minister Yitzhak Aharonovich on Sunday night and urged calm and a return to order. "There is room to examine all the claims," he said, "but there is no room for violence and such law breaking."
Earlier on Sunday, hundreds of members of the Israeli Ethiopian community protested against discrimination and police brutality in Tel Aviv, calling out "Not black, not white, we're all human beings."
Protesters marched from the the Azrieli towers to Kiryat HaMemshala (government offices), shutting down traffic on the Ayalon Highway in both directions. They blocked the Kaplan-Begin junction, while police closed other main traffic arteries in central Tel Aviv.
Clashes between police and protestors erupted near the Azrieli Center, and the Ayalon Highway was reopened after three hours.
The protesters, who were joined by social activists, were crossing their hands over their heads, to symbolize being handcuffed, and calling "a violent cop should be jailed."
Brig. Gen. Yoram Ohayon, deputy commander of the police's Tel Aviv district, accused social activists and organizations of "inciting members of the community to keep protesting after the police has already reached understandings with them."
Noam (Dabul) Dvir, Gilad Morag, Itay Blumenthal, and Eli Senyor contributed to this report.