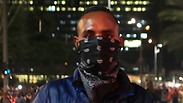 Ethiopian Israeli at Rabin Square
Photo: Yaron Brener
Thousands of Ethiopian Israelis turned out to the mass demonstration in Tel Aviv on Sunday to release some of the immense pain they have shouldered over the years.

Here are the stories of four protesters, who say they want to feel equal but are faced with discrimination due to the color of their skin.



'He told us our women were sluts'
Addis Sahlo, a 29-year-old Israeli of Ethiopian descent, clearly recalled the humiliation he underwent a decade ago, when he sat with his friends on a major street in south Tel Aviv. "Me and three other friends arrived at a club and took a seat nearby to drink. Cops who arrived in the area asked us what we were doing."

He told them they were at the club for a night out. "While we were talking, there was a brawl not far from us which involved some guys of Ethiopian descent. The cops ran over but they managed to escape. The police officers, who were probably pissed off, came back in our direction, kicked out bottle and began cursing at us."

Sahlo says the police officers then blamed the brawl on the group, calling them "stinking Sudanese." The Ethiopian Israeli was shocked by the officers' conduct, who continued to hurl insults as they arrested him. "They claimed out ethnicity is responsible for all the problems and that our women were sluts. And they started to beat us."

The police brutality victim recounted the horrific encounter. "I found myself begging the cops to stop, after which they took us under arrest and sprayed us with tear gas. At the police station they charged us with assaulting an officer and throwing bottles at police – which never happened."

Sahlo said the judge released him at a court hearing. "That moment I understood that – no matter what – you cannot change your skin color. No matter where you go and what you do, you will be arrested. It's insulting. Cops allow themselves to disrespect us and talk to us with their hands."
'I want to be everyone's counselor'
Esthi Zerviv, a special education teacher and counselor, made aliyah to Israel at the age of six. She says she tried for years to get promoted in the Education Ministry, but claims her ethnicity held her back. "They claim that we are all equal – 'the other is me' – that's one of the phrases waving atop the Education Ministry. But in the field, that is hardly implemented – many times I tried to be accepted as an education counselor and yet each time I was redirected to work with youths of Ethiopian descent."
She pushed back against the employment discrimination. "With all due respect, I did not study to become a counselor or a special education teacher to only serve a certain segment of the population. I want to be a counselor to everyone – period."
'I want to be able to choose where I go out'
Menash, 25, of Ramla, said he regularly encounters discrimination at clubs, where he and his friends frequently find themselves outside for no apparent reason. "A third of the times I go out, I'm left outside or they make faces.

"Last Friday four of us, three of whom were Ethiopian, went out to a club in the south Tel Aviv area. The bouncer said there was no entry. When we asked why, he said it was closed and there was no room. But while you're waiting in line, you see lots of people leaving the club, but they don't let you in. After half an hour of waiting in line, you realize that you have to leave. It's true that there are clubs that mostly cater to an Ethiopian crowd, but I want to have the ability to choose."
'They sent a German Shepherd after me'
Gatune Adla, 26, was arrested for the first time at the age of 13. "I returned from camp and was accused of attacking a policeman," he said. "They arrested and beat me up. The officer pushed me up against the police car and whooped me, punching me with his firsts. I was a little kid, I cried, but nothing helped."
His second encounter with law enforcement was a year and a half ago. "My friends and I were sitting in a grove and drinking. The police arrived and dispersed us. I had a scooter in the grove and I was carrying it home… I walked by the policemen, and I wasn't afraid because unconsciously I knew I hadn't done anything. I must have not heard the policeman telling me to stop, and they set a dog on me. I turned around and saw a German Shepherd with a muzzle jumping on me and grabbing my shirt. The policemen ran at me, stepped on me, and sprayed me with tear gas from a centimeter away. It's very frustrating when you know you didn't do anything. Now I understand people who say they've experienced it and are frustrated. I understand people like Yosef Salamsa."