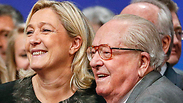 Marine and Jean-Marie Le Pen
Photo: Reuters
PARIS -- The man who for nearly four decades headed France's far-right National Front may now be on the fast-track to disgrace.

Jean-Marie Le Pen goes before a party disciplinary board Monday over anti-Semitic remarks, in what could be the culmination of a high-stakes family feud. Rising stars within the party -- especially his daughter, the current party leader -- want to shut him up.

Marine Le Pen has campaigned to transform the anti-immigration party from political pariah to a voter-friendly alternative with her eye on 2017 presidential elections.

The party hasn't publicly announced what sanctions Jean-Marie may face. He is facing disciplinary action for remarks minimizing the Holocaust for which he has been convicted in the past, and praising French wartime leader Philippe Petain, who collaborated with the Nazis.

Marine Le Pen, who wants to draw mainstream voters to the party, has been trying to persuade her father to retire altogether from politics. But the feud within the Le Pen family has teetered between drama and farce that could emerge as the biggest threat yet to its quest for mainstream power.

Jean-Marie Le Pen's defense last month of his view that Nazi gas chambers were a mere "detail" of war prompted his daughter, National Front leader since 2011, to demand his role in the party be discussed at a meeting of Front executives.