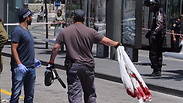 The site of the attack
Photo: Gil Yohanan
Security guards at a light rail station in Jerusalem on late Monday morning shot a Palestinian man suspected of trying to attack one of them.
The Palestinian was shot in the legs during the incident at the station at Givat Hamivtar, near the French Hill neighborhood. There were no other injuries.
During a preliminary investigation of the incident, one of the security guards said he had been attacked from behind by the Palestinian, but had not known whether he had been punched or hit with a weapon.
His fellow guards said that the man had tried to pull something out of his pocket, which they suspected was a knife, at which point they shot at his legs. No knife has been found at the scene. Searches of the area continued after the incident and an investigation has been launched.
The Palestinian was taken to Hadassah University Hospital, Ein Karem, in moderate condition.
Daniel, a student at the nearby yeshiva, told Ynet that he did not see a knife during the incident.
"The guard seemed very upset and told police investigators that 'the Palestinian was trying to get something out of his pocket and attack. I fired in the air. I asked him to stop and then I fired at his legs.'"
Fellow yeshiva student Simi Saada said: "We heard shots and arrived at the scene within 30 seconds. There was a Palestinian who had been shot on the street and police officers and rescue personnel around him treating him. The security guard seemed in shock and was sitting to the side."
The light rail returned to normal schedule after the incident, but did not stop at the Givat Hamivtar station.
Local residents have complained about the lack of police in the area. Yosef Cohen, who lives in Givat Hamivtar, an area in which there have been a string of attacks in the past two years. "We call this the blood route. People are afraid to walk about; we lock our doors out of fear. The police have reduced their numbers recently and we don't feel safe. There are Palestinians here who threaten us."
There has been a wave of terror attacks in Jerusalem In recent weeks, including a deadly vehicular attack that claimed the life of Shalom Cherki and left his companion Shira Klein in serious condition.
Two weeks later, a 16-year-old Palestinian was shot dead after he tried to stab Border Police officers at the checkpoint next to Ma'ale Adumim. A day after, four police officers were run over in an attack close to the Mount of Olives.