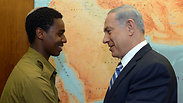 Netanyahu meets with Pakada
Photo: Haim Tzah, GPO
Prime Minister Benjamin Netanyahu on Monday called to "eradicate" racism following the violent demonstrations that have shaken Ethiopian community in Israel.
"We must be united against the phenomenon of racism, denounce and eradicate it," said Netanyahu, after a three-hour meeting with representatives of the Ethiopian community, including IDF soldier Damas Pakada, who was attacked by a policeman.
"I was outraged by the images I saw. We can't accept this and the police is handling this. We'll have to change things," Netanyahu told Pakada.
"We cannot accept lashing out, racist attitude and rejecting people, or the beating of an IDF soldier," Netanyahu added. "Police will do whatever needs to be done to fix its conduct, we need to also fix Israeli society."
Related stories:
Pakada told the prime minister of his brother who serves in the Air Force. "We love our jobs, we love serving the country, we want to give as much as we can give, and this is the goal," he said.
"For many years we dreamed of coming to the land of Israel, the entire Ethiopian community. We're trying to become integrated in the Israeli society as much as we can," Pakada went on to say. "The Ethiopian community came to Israel through Sudan and lost a lot of dear people on the way. It's time we simply unite. We don't want to fight. I hope you act against discrimination and racism."
Public Security Minister Yitzhak Aharonovich, Police Commissioner Yohanan Danino were also present at the meeting, as well as MK Avraham Neguise, who was born in Ethiopia and made aliyah to Israel in 1985.
Members of the Ethiopian community in Israel have been protesting against the racism and discrimination in Israeli society over the past few days. A large demonstration in Jerusalem on Thursday ended with 3 policemen and 12 civilians injured in clashes, and another mass rally in Tel Aviv on Sunday paralyzed major traffic arteries in the city during rush hour, and ended with more violent clashes at Rabin Square in which dozens were hurt.
Netanyahu said that he had appointed a ministerial committee to address the integration challenges faced by Israelis of Ethiopian origin, including difficulties in the field of education, housing and employment.
Some commentators have highlighted latent racism in a country that has absorbed millions of migrants over the past 60 years but still agonizes over differences between East European and Middle Eastern Jews, relations with its large Arab minority, and how to handle more recent arrivals from Africa.
"There is a problem, there are discrimination issues, there is racism in Israel," said Fentahun Assefa-Dawit, the director of Tebeka, an advocacy group for Ethiopian Israelis, who number around 130,000, many of them born in Israel.
"We want the prime minister to take this matter into his hands," he said moments before he was due to meet Netanyahu. "We urge him, we demand of him, to bring these issues to an end."
Around 20,000 Ethiopian Jews, who trace their roots to the biblical King Solomon and the Queen of Sheba, were brought to Israel on secret flights in the mid 1980s and early 1990s.
The offspring of those early arrivals have worked hard to integrate, many serving in elite units of the army with distinction. An Ethiopian woman won a recent Miss Israel beauty contest. But after mandatory military service, acceptance in the workplace has proved more of a struggle for many.
"When an Ethiopian applies for a job, as qualified and impressive as he might be, he is not going to be invited for an interview because he has an Ethiopian name on his CV," said Assefa-Dawit of Tebeka, the advocacy group.
"Israel is our country, there's no 'us and them'. This is our home. The community is crying out for the government to resolve this."
Ethiopian households earn 35 percent less than the national average and only half earn high school diplomas, compared with 63 percent for the rest of the population.
AFP and Reuters contributed to this report.