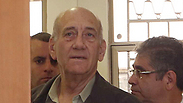 Olmert at court
Photo: Gil Yohanan
Tony Blair and Meir Dagan have expressed support for beleaguered former prime minister Ehud Olmert in the latter's sentencing hearing at Jerusalem District Court, following his corruption conviction in March.

Olmert arrived Thursday morning at the court for sentencing in the Talansky affair, in which he was found guilty of accepting cash-filled envelopes from American Jewish businessman Morris "Moshe" Talansky, for whom the affair was named.

The prosecutors in the trial sought to impose an 8-18 month punishment for Olmert.

Olmert's lawyers presented the court with several letters testifying to his character, including one from the former British prime minister, and another by Dagan, a former Mossad chief whose testimony was under a gag order. The judges returned Dagan's letter immediately after reading, due to security restrictions.

Other letters attesting to Olmert's integrity came from Meir Kraus, director of the Jerusalem Institute for Israel Studies and by Prof. Arie Orenstein from the Chaim Sheba Medical Center. In addition, a senior Mossad official arrived at court to testify in favor of the former prime minister.

During the hearing, Olmert was moved to tears when his adopted daughter, Shuli Nidas, vouched for his good character, saying that it was thanks to him and his wife Aliza, she "understood what a father and mother are supposed to be".

Nidas faced the judges and spoke of her father: "One time when I was at boarding school, I was told that someone had come to pick me up. It was Ehud. That's where I met him, it was my first time."

She said that she moved in to the Olmert family home for three years, in which she was "given support, medical care, and an education….I passed through crossroads over the years, and I always had someone I could talk to – Ehud."

Blair praised Olmert in the letter he wrote, and told of the positive attitude Olmert managed to generate among European leaders towards Israel, noting in addition that he was a visionary who had worked for promoting peace in the Middle East.

Meir Kraus, director of the Jerusalem Institute for Israel Studies wrote about Olmert's "dedication to advancing educational institutions in East Jerusalem," and stated that through his work, Olmert managed to spread the message that "the rights of children living in the eastern part of the city for education should be equal to those of children in the western part of the city, and that it is the responsibility of the educational system to ensure that all children are treated equally."

In March, the Jerusalem District Court found Olmert guilty in the so-called Talansky case, which was reopened after Olmert's former bureau chief Shula Zaken handed over incriminating recordings as part of a plea bargain. The recordings appear to prove that Olmert used the money Talansky gave him for personal use - contrary to what he claimed.

Talansky gave Olmert hundreds of thousands of dollars, one hundred thousand of which was in envelopes, during his stints as mayor of Jerusalem and minister of trade and industry. In return, Olmert promoted Talansky's business interests ahead of others.

The money went into a secret fund managed by Olmert's associate Uri Messer.

Olmert has claimed he was on the brink of a historic agreement with the Palestinians when he was forced to resign in early 2009 over the corruption allegations. His departure cleared the way for right-winger Benjamin Netanyahu's election.