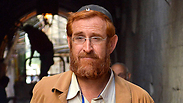 A Jerusalem court Tuesday authorised rabbi Yehuda Glick, who survived an attempt on his life after calling for Jewish prayer rights on the Temple Mount, to visit the flashpoint holy site.

Before the October attempt in which he was shot, Glick had been banned from entering the compound, which is sacred to both Muslims and Jews, following his arrest on suspicion of assaulting a Muslim Palestinian woman at the site.

The nationalist rabbi, 48, is loathed by Palestinians who see any Jewish presence on the plateau in the Old City that houses Islam's third-holiest shrine as provocation.

He was shot four times by a masked gunman in Jerusalem on October 29 and was discharged from hospital a month later.

A day later, police shot and killed his suspected attacker, Muataz Hijazi, a Palestinian from annexed east Jerusalem.

The court ruled Tuesday that Glick could visit the Temple Mount compound once a month but without carrying a camera or a smartphone, a judicial statement said.

It is unclear when Glick plans to visit the site.

The compound, which houses the Dome of the Rock and Al-Aqsa Mosque, is the third holiest site in Islam.

Jews are permitted to visit but are barred from praying for fear of tension with Muslims boiling over, and Israeli security forces control entry.

The site became the focal point of tension in the Holy City in October and November, when police clashed with Palestinian protesters over perceived Jewish attempts to take it over.

Palestinians also staged a series of deadly lone-wolf style attacks, including the running over by car of groups of Israelis.