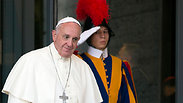 Jerusalem's Latin Patriarchate on Wednesday hailed the upcoming canonization by Pope Francis of two nuns who will become the first modern-day saints from Ottoman-ruled Palestine.

Marie Alphonsine Ghattas of Jerusalem and Mariam Bawardy of Galilee, both of whom lived in Ottoman Palestine during the 19th century, will be canonized at the Vatican in Rome later this month.

"In Rome, Pope Francis will declare on May 17 two Palestinian nuns as saints, and we are in full preparation," Bishop William Shomali told journalists.

The pair's canonization "means that holiness is still possible, that... spiritual perfection is still possible," he said.

"Our Holy Land continues to be holy, not only because of the holy places it hosts, but also because good people live here."

Pope Francis announced in February that the two nuns would be canonized - the first Arabs from Ottoman-ruled Palestine to gain sainthood.

Mary-Alphonsine Ghattas was born in Jerusalem in 1847, and died there in 1927. She was an educator and spent time working as a nurse. The nun, who was born in Jerusalem in 1847, opened schools in Jordan and in Palestine, and was described as an active promoter of women's education. She was beatified - the final step before canonization - in 2009.

Mariam Bawardy was born in the village of Ibilin in Galilee in 1843 and became associated with the Carmelite Order, founding convents in India and in Bethlehem. She became a nun in France and died in Bethlehem in 1878. Described as a mystic who taught others how to pray and to feel close to God, Bawrdy was also almost entirely illiterate. She was beatified by Pope John Paul II in 1983.

Although there are several saints who lived in the region during Christianity's early days, Bawardy and Ghattas are the first to be canonized from Ottoman-era Palestine.

The process of canonization is long and as such the woman are only just now moving towards sainthood, despite Bawardy starting the process as far back as 1927. In order to become a saint an individual must have lived an exemplary holy and ethical life; be proven by history scholars to have inspired other Christians who worshiped with them; and to have two miracles attributed to them since their death.

"The Catholic Church has its own parameters to honor the best and outstanding among its faithful," Shomali said.

Bawardy, who lived a troubled life – being orphaned at the age of two and dying herself aged only 33 - was reported to have been visited by miracles throughout her short lifetime, in the form of religious ecstasies and stigmata.

Ghattas was believed to perform a miracle in 2009, when a group of young girls fell into a septic tank and survived after being submerged for several minutes. One of the girls' mothers said she had prayed to Ghattas to save her daughter.

"Our Holy Land has given hundreds of saints during its long history. Our greatest saint is Holy Mary, mother of Jesus.

"But we have three only from the modern period, whose language was not Greek, or Latin, nor Aramaic, but Arabic."

The canonization of a third Palestinian - a Salesian monk - is still under review by the Church.

There are believed to be over 10,000 catholic saints. The Church is careful as to who is canonized and limits the number of individuals. During his 27 years as pope John Paul II canonized 110 saints, a figure that was considered higher than usual. The purpose of canonization is to officially recognize the veneration of an individual and to confirm that God is working through them.

The veneration of these saints will be an important moment for Catholic Palestinians, Iness Al-Yacoub, Superior General of the Rosary Sisters of Jerusalem told The Media Line. She explained that it showed that religion went beyond individuality or nationality, "This is good for the Palestinian people, for Arabs and for all of the world. It means that we have to love and accept others. We have to forgive and to be peace makers."

Just over two percent of people living in Israel are Christian, around 160,000 people, of whom many are Catholics.

The Media Line's Robert Swift contributed to this report.