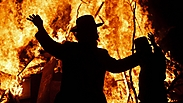 Lag BaOmer in Meron
Photo: EPA
Tens of thousands of Hasidic worshipers celebrated the Rabbi Shimon Bar Yochai Hillula at Mount Meron on Wednesday night in commemoration of Lag BaOmer.

Lag BaOmer is a Jewish holiday celebrated on the 33rd day of the Counting of the Omer. The holiday marks the day Rabbi Shimon bar Yochai, a Mishnaic sage and leading disciple of Rabbi Akiva in the 2nd century, revealed the deepest secrets of kabala in the form of the Zohar (Book of Splendor).

Among the main practices of Lag BaOmer are bonfire lighting and the pilgrimage to Rabbi Shimon bar Yochai's grave on Mount Meron.


During the celebration at the tomb of Rabbi Shimon Bar Yochai, the honor of lighting the main bonfire went, as tradition dictates, to the Rebbe of the Boyaner dynasty, a relatively small Hasidic dynasty in Jerusalem.

For the next 24 hours, rabbis and Hasidic leaders will celebrate the memory of Rabbi Shimon bar Yochai - each around his own bonfire surrounded by his followers in previously set times - to the sound of music.

Several hours after the Boyan Rebbe lights the first bonfire, the rabbi of Jerusalem Shlomo Amar will light a bonfire, followed by rebbes from the dynasties of Toldos Aharon, Toldos Avrohom Yitzchok, Modzitz, and others - who will light a bonfire every few hours.

The right to light bonfires in Meron for this celebration is considered a great privilege and honor in the haredi sector. Those who are rewarded with that right are considered very influential in the ultra-Orthodox community. Several of the main bonfire lightings are reserved in advance, while lobbyists for many Hasidic dynasties vie for the bonfires who aren't reserved. As a result, dozens of rebbes were expected to light bonfires during the night and on Sunday.

Worshipers from different Jewish sects from across the country have been making their way to Mount Meron since the early morning hours to take part in the celebration.

Some 15,000 people arrived to pray at Rabbi Shimon Bar Yochai's tomb even before the Hillula began. Some half a million worshipers are expected to make the pilgrimage to the tomb.

Just like every year, haredi barbers will arrive in Meron to open a makeshift barbershop for the sake of the boys who will undergo the "upsherin" (haircutting ceremony). After families of boys who reached the age of three cut the first locks of hair off, the barbers would be on hand to complete the boys' very first haircut.