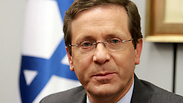 Zionist Union leader Herzog
Photo: AFP
Zionist Union leader Isaac Herzog slammed the new government Prime Minister Benjamin Netanyahu was able to form on Wednesday night, calling it a "national failure government."

"No responsibility, no governance and no stability," Herzog wrote on his Facebook page, describing the new government.

"Once again the mask of leadership was removed from the prime minister's face, showing his arrogance and complacence in the embarrassing farce of forming the weakest, most extortionist and most narrow government in Israeli history," he went on to say.

Netanyahu on Wednesday caved in to a last-minute demand from Bayit Yehudi to appoint Ayelet Shaked as justice minister, something that also drew Herzog's ire.

"Giving a reward in the form of the Justice Ministry to the Bayit Yehudi, a party that hurt and threatened the rule of law in the previous Knesset, is a clear example of Netanyahu's disregard of the best interests of the citizens of Israel, and shows that the rule of law and the Israeli democracy are worth less to him than his political needs," he wrote.

"Instead of using the mandate he received to lead to the formation of a government that would benefit the public, Netanyahu once again proved that his survival was more important than improving the welfare and quality of life of all Israeli citizens longing for change and hope."

Herzog added, "After we saw how Netanyahu managed this liquidation sale, every citizen must ask himself with concern, who will stand up to international pressure? To the Palestinians? To the Security Council? To world powers?"

Herzog further criticized the 61-MK narrow government Netanyahu formed.

"We all understand today that this is a weak and narrow government. A government that will fail to meet the difficult tasks ahead, that will fail to fulfill its promises and won't survive long. It would've been better for the prime minister to acknowledge his failure to form a government that meets the needs and will of the public, and return the mandate to the president, instead of making a mockery out of the prime minister's office," he said.

He vowed to lead an opposition "that would serve as a protective wall" and as an alternative that "would bring back hope and lead responsibily, with level-headedness and hope."

Yair Lapid's Yesh Atid party used similar terminology to that of Herzog's. "The liquidation sale government was launched this evening. A government based on sector parties that extort public funds and a prime minister who is willing to sale the country for his seat. Yesh Atid will fight this bad government on all fronts," the party said in a statement.