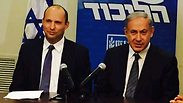 Naftali Bennett and Benjamin Netanyahu
Attorney General Yehuda Weinstein on Wednesday announced his opposition to a bill proposed last year by Naftali Bennett's Bayit Yehudi party, the Justice Ministry said in a statement to the press.
Coming on the last, crucial day of coalition negotiations, Weinstein's rejection of the bill, which proposed to limit the powers of the High Court of Justice, contradicts a directive Weinstein himself issued two years ago, in which he forbade government involvement in coalition affairs.
"An independent High Court is essential to the existence and strength of Israel as a democratic state," said Weinstein, adding that "it contributes to Israel's character and image in the world as a civilized, progressive country."
Weinstein said he intended to stand guard and maintain the High Court as one of Israeli society's most important assets.
MK Yariv Levin of Likud criticized Weinstein in a radio interview, saying his words were blatant interference in political matters.
The bill is one of several legislative proposals that Prime Minister Benjamin Netanyahu's new coalition will be considering. Netanyahu clinched a deal on Wednesday to form a government comprising five parties that will hold a one-seat majority in Israel's 120-seat Knesset.
European diplomats have expressed concern about some of the proposals, which they regard as discriminatory or restrictive of judicial oversight:
Coalition partner Bayit Yehudi, which secured the Justice Ministry as part of the agreement, has drafted a bill to restrict donations from foreign governments to non-governmental organizations in Israel. Many NGOs operating in Israel, whether Israeli-run or international, receive funds from the European Union, the United States and elsewhere.
The measure proposes taxing any such income unless Israel's defense minister and a parliamentary committee on security affairs say otherwise. Critics say the bill is designed to hamper the work of pro-Palestinian groups and those opposed to Jewish settlements on land claimed by the Palestinians.
Measures have been proposed that would limit the power of the Supreme Court. One bill would permit a simple majority in parliament to override any High Court decision that outlaws a piece of Israeli legislation.
Another seeks to limit the court's ability to overrule legislation by requiring any such ruling to be made by a majority of nine of Israel's 11 Supreme Court justices.
Court decisions have angered both left and right-wing parties over the years. It drew the wrath of the last Netanyahu administration when it struck down a law that allowed the authorities to detain African illegal migrants without trial.
Netanyahu's far-right partners want to increase the size of a government-named panel that selects judges to ensure there would be more lawmakers than judges on that committee.
Netanyahu has demanded that coalition partners agree to vote in favor of all measures proposed by his government to rein in Israeli television stations and other media that require government licenses in order to operate.
Netanyahu's Likud party has proposed a "nation-state" bill that would enshrine Israel as a Jewish state. The legislation was introduced last year and is now on hold. Israel's president is opposed to the bill, which he says goes against the sentiments of Israel's founding fathers. The country's 20 percent Arab minority is also strongly opposed, believing it actively discriminates against them.
Members of Bayit Yehudi have proposed the annexation of parts of the West Bank, land the Palestinians seek for an independent state together with Gaza and East Jerusalem. Netanyahu opposes such a move, which would likely trigger significant protest from Israel's major Western allies.
Ben Niran is the author of this story. Reuters contributed to this story.