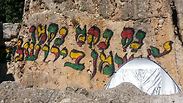 Graffiti at ancient site in Meron
Photo: Uri Berger/Israel Antiquities Authority
Students from the Bnei Akiva Yeshiva in Meron were shocked on Wednesday when they discovered graffiti on 2,000-year-old walls near the ancient synagogue on Mount Meron.

The walls were sprayed with large, colorful letters that spelled out "Na Nach Nachma Nachman MeYerushalayim" – a reference to a slogan widely used by a subgroup of haredi Jews.


The students informed inspectors from the Antiquities Authority, who arrived quickly. Further damage to the site was discovered when the Nature and Parks Authority found similar graffiti at the Hurbat Sheva ruins south of Meron.

"It's heartbreaking," said Uri Berger, an archeologist in the Antiquities Authority. "We only just finished preserving the synagogue that was defaced – and now people are damaging our heritage again.

"We are deeply disappointed by this handful of people, who purportedly in the name of their faith damage the Jewish heritage that belongs to all of us.

"It's strange that those who sprayed the graffiti think that this respects the name of the rabbi from Breslov."

In the last year, the Antiquities Authority's Conservation director made serious efforts to preserve and restore the ancient synagogue in Meron with funding from the Prime Minister Office's "Landmarks" heritage program. The work included strengthening the structure's walls and adjoining tower, removing graffiti, and removing overgrown weeds.

Meron is a village in the central Galilee and is five millennia old. Some believe it is identical to the Biblical Meron.

A Jewish village was founded there during the Second Temple period and became a center of olive oil production.