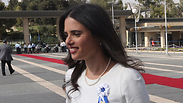 Incoming justice minister Ayelet Shaked
Photo: Gil Yohanan
Benjamin Netanyahu's formation of one of the most right-wing government in Israel's history has fuelled concerns in Europe and the United States about further settlement building and dimming prospects for peace.

But it also has diplomats on edge about wider policy proposals, particularly on social and judicial affairs, where the far-right Bayit Yehudi party, an influential member of Netanyahu's coalition, is determined to leave its mark.

Ultra nationalist Bayit Yehudi, led by former technology entrepreneur Naftali Bennett, has secured two important cabinet portfolios: the education and diaspora ministry for Bennett and the justice ministry for his number two, Ayelet Shaked.

Shaked, a 39-year-old former software engineer, is a divisive figure in Israeli politics, making outspoken comments against Palestinians while promoting a pro-settler agenda.

Since entering parliament in 2013, she has backed a number of controversial bills, including one that would enshrine Israel as the Jewish nation-state, to the anger of Israel's 20 percent Arab minority. Shaked also wants to check the Supreme Court's power and restrict donations from foreign governments to non-governmental organizations in Israel.

As justice minister, she will be in a position to push those legislative proposals more aggressively, with the NGO and judicial oversight bills expected to move ahead.

Concern in justice system

While some are comparing the Bayit Yehudi MK's tenure to that of Daniel Friedmann, the latter was a law professor and Harvard Law School graduate.

For foreign diplomats, that raises as many concerns about the direction Israel is moving in as the expansion of settlements on land the Palestinians seek for a state - a profound, long-standing bone of contention.

"The red lines for us aren't just about settlements," said the ambassador of one EU member state.

"When you look at some of the legislation being proposed, it is very worrying. It is anti-democratic and looks designed to shut down criticism. It's the sort of thing you normally see coming out of Russia."
Trigger for action
US diplomats have flagged their concerns too, while emphasising that they need to wait to see how the legislation pans out. With the narrowest of governing majorities - just 61 seats in the 120-seat parliament - it will be a challenge for Netanyahu to get new legislation approved.

The nation-state bill, perhaps the most contested piece of law in Israel's recent history, looks unlikely to progress because one member of the coalition, Moshe Kahlon, the leader of the centrist Kulanu party, has an effective veto.

But the NGO and judicial oversight bills have a better chance of advancing, with Avigdor Lieberman, the leader of the far-right Yisrael Beytenu party, a former ally of Netanyahu's who is now in opposition, likely to support them.

The NGO bill would impose a heavy tax on foreign donations to non-governmental organizations operating in Israel, unless a special defense ministry committee decides otherwise.

"It's part of a broader effort to limit the political space, to squeeze out opposing views," said Matt Duss, president of the Washington-based Foundation for Middle East Peace.

"It has very negative connotations. It creates a hostile environment for those who express legitimate criticism and would put Israel in some very bad company."

In Europe, officials are discussing what steps may be taken against Israel if it continues to expand settlements, a process that continues apace, with tenders for 900 units in East Jerusalem issued this week.

Israelis frequently fret that Europe is going to impose a trade boycott on them. No such action is likely.

The EU does restrict loans to Israeli research bodies based in the West Bank, however, and is moving ahead with plans to label Israeli products made in West Bank settlements. Other measures are quietly being debated.

In the past, the trigger to move ahead with such steps was settlement-building, which the EU regards as illegal under international law. But now, Israel's legislative agenda may be as much of a danger.

"It is a deep concern for us," said the European ambassador. "It is the sort of thing that is a red line."