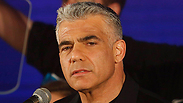 Yesh Atid sent letters warning the attorney general and the Knesset speaker on Friday against holding a vote on Monday on expanding the number of ministers for Prime Minister Benjamin Netanyahu's fourth term.

The letters were served as notice before faction chief Yair Lapid petitions the High Court of Justice against the move. Lapid previously warned that he would take such actions in an interview to Ynet earlier in the week.

The bill proposed by the Netanyahu government seeks to temporarily repeal a law passed in the previous Knesset which limited the number of ministers to 18 and the number of deputies to four.

The new legislation asks that the limitation be revoked for the current Knesset, only to be reinstated after the next elections. The government will also request to be allowed to appoint ministers without portfolio – a political institution that was eliminated by Yesh Atid in the 19th Knesset.

"This is a despicable political act which will cause harsh, critical, and irrevocable harm to the standing and respect of the Knesset," said the letter sent to Attorney General Yehuda Weinstein and Knesset Speaker Yuli Edelstein.

The Yesh Atid letter accused Netanyahu of using his personal relationship with a senior MK to pass the controversial legislation. "The prime minister is exploiting the fact that the chairman of the legislative body, the Knesset, is an old friend from his faction. If not for that, he would not dare commit to such harm, with such far-reaching consequences, to a basic law written by a previous government."

The harsh Yesh Atid letters said the legislation was "a cynical exercise of changing the rules in favor of political survival and cronyism on behalf of the prime minister, who is asking – at knife-point, in the form of a loyalty test – that the Knesset speaker will personally help fulfill his request, all while trampling on the delicate fabric and balance between the legislative and the executive."

Officials at Yesh Atid said the proposed bill was an unconstitutional attempt to increase the number of permanent ministers. "This is a crude crushing of the legislative principles and an act of disrespect to the Israeli public who works and pays taxes."