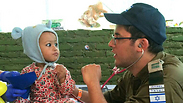 Israeli doctor with quake victim
Photo: Hadassah PR
After treating hundreds of patients at the IDF field hospital in Kathmandu, Shree-Krishna Kashichawa – an orthopedics resident at Hadassah Hospital in Jerusalem – was informed that his family home was badly damaged in the devastating earthquake that hit Nepal two weeks ago.

His colleagues in the Israeli delegation stepped in to help, setting up a temporary shelter for his family members until they are able to rebuild the home.

Dr. Shree-Krishna Kashichawa in Nepal (צילום: דובר צה"ל)

Dr. Kashichawa, an orthopedic surgeon from Nepal and a resident at Hadassah for the past two years, volunteered to join the IDF delegation which left for Kathmandu in the days after the disaster.

The Nepalese doctor has already helped treat some 200 victims of the earthquake, including children with broken bones and other severe injuries. Recently, he set out to visit his family in the Kathmandu Valley, where he discovered that their home was damaged in the quake.

Luckily, his parents, two brothers, and three sisters were out of the house two weeks ago and were saved from disaster, but were left shelter-less afterwards. Fortunately for Kashichawa family, his friends on the delegation immediately offered their assistance and set up a military tent to serve as a temporary solution.

The Nepalese doctor told Ynet he was overwhelmed by the gesture. "I feel much better now, as do my family members. The house that was ruined was a five-story building, in which I was born and raised. I wanted to visit the family for a few hours and it hurt me to see the house in such a state."

"It also hurt me to see friends and neighbors who were physically hurt, including a friend of mine who lost his wife, mom, and daughter," he added.

Dr. Kashichawa is expected to return to Israel next Tuesday with the rest of the IDF delegation, who will leave behind significant supplies of medical equipment, medicines, and military tents for the Nepalese authorities. The orthopedic surgeon is set to continue his residency in Israel for the next years, alongside his wife – who is eight-months pregnant.

Col. (res.) Sami Yehezkel served as the commander of the rescue force initially deployed to Kathmandu two weeks ago. He is expected to be the last IDF officer to leave the disaster-stricken country after the delegation returns home.

In a conversation with Ynet, Yehezkel said that IDF personnel, including structural engineers, have gone through schools, hospitals, and other public buildings to review their condition after the quake.