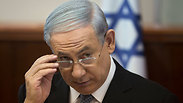 Prime Minister Netanyahu
Photo: EPA
In one of its final decisions, the provisional government approved a bill proposal on Sunday allowing unlimited appointments of ministers and deputies.

The third amendment to Basic Law: The Government and temporary order for the 20th Knesset, proposed by Prime Minister Benjamin Netanyahu, will also allow the appointment of ministers without portfolios.

A minister without portfolio is among the most wasteful institutions in the government. It was initially intended to allow for the appointment of expensive 'vanity' positions meant to secure support of necessary factions.

The controversial move was unanimously passed, and will be put to a Knesset vote on Monday.

Yesh Atid chairman Yair Lapid has threatened to petition the Supreme Court against the amendment.

Lapid led the legislative proposal in the previous term to limit the number of ministers to 18 and the number of deputies to four, and bar the appointment of ministers without portfolios.

Now the alliance of Likud leader Netanyahu, Kulanu's Kahlon, and Bayit Yehudi chief Naftali Bennett with the ultra-Orthodox factions – with a narrow majority of 61 MKs – wish to temporarily revoke the limitation.

In his comments at the beginning of the weekly cabinet meeting, Netanyahu made no mention of the vote to expand the government, but rather chose to focus on the achievements of the outgoing government.

"I view the role of leading the country as receiving a precious charge. My responsibility as prime minister and ours as a government is to return the country to the public more secure, more prosperous and more developed," Netanyahu said at the beginning of the weekly cabinet meeting.

"When I look back at the government's activity I can definitely say that despite the difficulties on all fronts, we have advanced the State of Israel in all three of these areas," he added.

"Despite the many attempts to challenge us on our borders, we thwarted all of these attempts with no exceptions - from Hezbollah in southern Lebanon to Iran's attempts to open a new front against us, the incessant attempts to smuggle weapons from Syria to Lebanon, and Hamas' efforts to strategically hurt us," Netanyahu went on to say.

"Above all, we worked tirelessly against Iran's attempts to arm itself with nuclear weapons. We made another attempt to promote an agreement with the Palestinians, but when hard decisions had to be made, Abbas abandoned the negotiations and joined forces with Hamas," he concluded, vowing to continue acting in the coming term.

Moran Azulay contributed to this report.