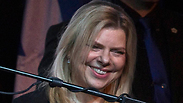 Sara Netanyahu
Photo: Reuters
Sara Netanyahu, the wife of Prime Minister Benjamin Netanyahu, testified Sunday afternoon in Jerusalem's Labor Court following claims of abusive behavior by a former employee.

Former superintendent Meni Naftali claims his rights as a worker were trampled on during the time he worked as the caretaker for the official Prime Minister's Residence.

Asked to describe the superintendent's role, Mrs. Netanyahu said he was responsible for everything in the house – "all the maintenance, the whole stuff, himself, the schedule, and the budgets. I don't know what else because I wasn't involved in those things, but he's responsible for everything." It was time for the voice of justice to be heard, she said, after her name was publicly dragged through the mud.

Mrs. Netanyahu explained that "with the current superintendent, who has been working for two years, I hardly speak about anything and the household is run quietly and wonderfully." She added that Naftali had worked in the household for months before she "truly encountered his crude behavior, his rudeness. Because we are people who are hounded by the media, we're scared; I know that firing the superintendent would make headlines, so I was afraid to do it."

Naftali claims the residency promised him a permanent position but failed to make good on its word. He also made personal accusations against Mrs. Netanyahu, claiming he suffered "insults, as well as financial, emotional and physical damages that led him, after being humiliated repeatedly, to write a resignation letter and leave his post at once."

His lawsuit revealed what goes on in the prime minister's official residence. "He discovered that he would have to deal with a bitter and deficient staff, an unreasonable workload, and a ceaseless turnover of household employees who refused to work for the prime minister's wife, Mrs. Netanyahu," the lawsuit stated.

The Netanyahu couple's defense team claimed Naftali was never promised a permanent position and that he has never complained on his work conditions while working at the residence. The defense also denied all accusations made against Mrs. Netanyahu.

It remains unclear whether Mrs. Netanyahu's testimony will indeed take place on Sunday or at a later date.

Related stories:

In Sunday morning's hearing, a senior official at the Prime Minister's Office (PMO), Yaniv Suissa, said Naftali was paid money for his vacation days even though he had used them.

"People turned to us, they were worried he will sue the PMO - and then he was paid the money without the difference being deducted. All of the funds mentioned here were paid in retrospect. It made the PMO nervous and they paid him without checking things," Suissa said.

Ezra Saydoff, who served as the head of the residence's staff, also testified for the defense on Sunday morning.

When asked by Naftali's attorney whether he was afraid of Mrs. Netanyahu, Sydoff responded: "Why should I be afraid? There is no reason."

In a police investigation into another case in 1999, Sydoff said of Mrs. Netanyahu, "I was truly afraid of her, she imposed a reign of terror."

When confronted with that testimony, Sydoff said Sunday: "It's been ten years, I have changed. Today, it's not the same thing at all."

Sydoff also said in 1999, "Sara would ask me to come at very frequently, she wanted me to be present during repair works at the house. Sometimes I had to stop meetings for that. Once she called in hysterics, asking me to come back immediately. I tried to prevent that, but it did not good. I was shaking my way to Jerusalem, I even started crying because of her."

On Sunday, Sydoff claimed he did not remember why Mrs. Netanyahu made him cry, rejecting prosecution claims that Mrs. Netanyahu was harassing him.

When Nafatli took the stand for cross-examination, he claimed that while he was working at the Prime Minister's Residence he was "shocked" to learn what was happening in the residence, including Mrs. Netanyahu's drinking habits, on which he said in a previous hearing: "I didn't realize she was drinking an insane amount of alcohol ... nearly three bottles of champagne a day."

The Netanyahu couple said Naftali's claims were "lies, smears and baseless slander."

Naftali worked as a superintendent in the Prime Minister's Residence for 20 months, from February 2011 to November 2012, when he resigned.

He is suing the PMO, Sydoff and Prime Minister Netanyahu for NIS 650,000 in compensation, NIS 100,000 of which are from Netanyahu himself over what Naftali claims was slander and libel against him.