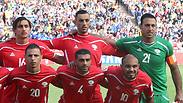 Palestinian national team
Photo: AP
Saudi Arabia will travel to the West Bank to face Palestine in a World Cup qualifier in June, the head of the Palestine FA told Reuters on Sunday.

"I have just received a message from the Saudis saying that they are coming, it's a great show of support," PFA president Jibril Rajoub told Reuters in a telephone interview.

Three-times Asian champions Saudi Arabia, who have played at four World Cups, will be the highest-profile team to visit Palestine since they were authorised to play World Cup qualifiers at home in 2011.

The first World Cup qualifier to be played in the West Bank was against Afghanistan the same year and Palestine also hosted Thailand at their 12-capacity Faisal Al-Husseini stadium.

National associations can ask FIFA to move World Cup qualifiers if they are unhappy with security and logistical arrangements. Visiting teams to Palestine have to pass through Israeli passport control and checkpoints.

Palestine and Saudi Arabia have been drawn in Asian qualifying zone Group A along with Malaysia, United Arab Emirates and East Timor.