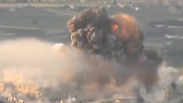 Still from video
Photo: Reuters
The attention of Arab media outlets this weekend turned to the strategically important Syrian town of Jisr al-Shughur. Rebel forces recently took over the town, which threatens the power of the Alawites associated with Bashar Assad's regime.

The Syrian government began assaulting rebels in the area on the weekend. Damascus appears to consider this area vital, considering the significant assistance given by foreign fighters to Assad's forces – chief among them Iranian officers, Afghan fighters, and Hezbollah militants. This activity is occurring despite intense fighting in another front -- the Qalamoun mountain region overlooking Lebanese border towns where Hezbollah has heavy presence.

Explosion rocks area of hospital, sending visible shockwaves (צילום: רויטרס)

One objective of the Syrian counterattack is the besieged hospital near the town in which about 250 of Assad's soldiers, including senior officers, are reported to be trapped. The hospital is in the southwestern part of the town and was the focal point of battles between Assad and the rebels on Sunday. Rebels blew up a vehicle filled with explosives on Sunday near the hospital.

According to the Rami Abdelrahman, director of the London-based Syrian Human Rights Observatory, rebel control of the hospital would strike a heavy blow at the Syrian regime. As fighting rages on the ground, Assad has been mercilessly bombing the town.

Media outlets associated with the Syrian regime claimed that forces loyal to Assad have made gains in the area. Syrian television reported on Sunday that the army has gained control over all the main routes into the city.

Meanwhile, battles have continued in the Qalamoun mountain area. Sources associated with the Syrian regime released photographs on the weekend of weapons bearing Hebrew writing and supposedly found in the area during battles.

They further claimed that Israeli airplanes had dropped supplies and ammunition in the border region between Syria and Lebanon. Hezbollah and Assad's regime have long made similar claims about Israel's alleged assistance to rebels fighting the government.