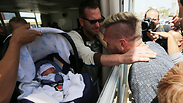 Israelis arrive in Israel with surrogate babies.
Photo: Yaron Brener
Israel used its humanitarian aid and relief mission to Nepal as a cover for trafficking 25 Nepali babies, JTA reported Monday, citing an Iranian and a Venezuelan network.
The death toll in Nepal's devastating earthquake has touched 8,019. The April 25 quake, the worst to hit Nepal after 1934, led to widespread destruction across the country.
According to the JTA report, Iran's Spanish-language television channel, Hispan TV quoted an unidentified NGO as saying that "Israel uses humanitarian help as a cover for trafficking of 25 babies in Nepal."
Venezuelan television station Telesur later picked up the original report and stated that among the 25 infants born to surrogate mothers that were airlifted to Israel, "15 of them were born through Tammuz, an Israeli surrogacy company which provides services to Israeli couples unable to bear children, particularly homosexual couples."
The LA-based Simon Wiesenthal Center slammed the report, saying: "The 'Tehran – Caracas axis' even perverts humanitarian aid to victims of natural disasters such as the Nepal earthquake, just as they had accused the Israeli medical mission of harvesting body parts in the Haiti catastrophe.
"Through these Spanish language television satellites, Iran foments antisemitism across the Americas, just as it sponsors global terrorism, slanders the Holocaust and pursues its nuclear programme," said Dr. Shimon Samuels, Director for International Relations of the Wiesenthal Center."