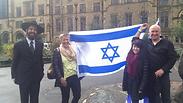 Israel supporters hold up the Israeli flag in Bradford after Galloway declared it an Israel-free zon
Photo: From Twitter
Former Respect MP George Galloway, who lost his northern England seat in Thursday's general election in Britain, has said he has begun legal proceedings to overturn the election result in Bradford West, after he lost by more than 11,000 votes to the Labour candidate Naz Shah.
According to the Guardian, the fiercely anti-Israel former MP has accused Shah of lying about him on Urdu television, and of falsely claiming to have been forced into a marriage at the age of 15.
Galloway is also claiming to have uncovered "widespread malpractice" in the ballot, including postal voting fraud, the Guardian said.
A Labour spokesman called the move "pathetic", and called on Galloway to accept the outcome of the vote, Sky News reported.
"This is pathetic and without any foundation. George Galloway should accept he was booted out by the people of Bradford West," the spokesman said. "They saw through his divisive politics and made a positive choice, by a majority of well over 11,000, to elect a brilliant new MP, Naz Shah."
Related articles:
Galloway lashed at out at his apparently favorite target in the wake of his loss, saying that "racists and Zionists" would be celebrating his defeat.
Shah told Sky News after the elections that she had endured "the dirtiest campaign mounted against me, the worst in the country and the worst this democracy has ever seen."
She said: "It was a nightmare in terms of the level. Especially in the last week."
During last year's Gaza conflict, Galloway, who also works for Iranian state-run TV and Russian state-funded television station RT, announced that he had "declared Bradford an Israel-free zone."
The comments drew widespread criticism and prompted local police to launch an investigation into Galloway.