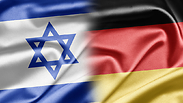 There was a long way to go before establishing relations with the practically old Germany
Photo: Shutterstock
I assume none of the readers will be surprised if I write that I did not feel any joy or enthusiasm when Israel established diplomatic relations with Germany. Israel and the so-called new Germany signed the agreement 20 years after Admiral Raeder signed the unconditional surrender document on behalf of the old Germany, Adolf Hitler's Germany.

I failed to understand the Israeli government's move, as nothing had actually changed in Germany at the time. The same judges, the same professors, educators, doctors and intellectuals. The same people who enthusiastically followed a human cartoon to war without any reason, to destruction and death.

Historic Ties

In Germany to mark 50 years of bilaterial ties, president lauds 'close relationship, which we can appreciate without reference to the complex past we share.'

The same tens of millions who turned into fanatic robots and cold-blooded murderers of children, women, men and elderly people. That same Austrian psychopath whose doctrine led to the annihilation of six million Jews and hundreds of thousands of Soviet prisoners, Polish patriots and gypsies. That same monster which destroyed Germany and created millions of victims.

With those fanatics and murderers, who were just 20 years older, many of them still missing the Führer and his doctrine, Israel signed an agreement of mutual recognition and normal relations. "Normal" relations between murderers and victims.

If the Germans of 50 years ago, the allegedly "new" Germans, would have at least made sure to punish the murderers, the move may have been understandable. But they didn't. After the 1940s, the German legal institutions were mostly busy clearing the names of hundreds of thousands, if not millions of SS people and their assistants, who were given "clearance certificates." They were known as Persil Certificates after a popular brand of laundry detergent.

Later, apart from a few trials against death camp commanders, almost all of which turned into a farce, war criminals were not tried for several decades. The Germans, even those of the second and third generation, simply decided to forget their predecessors' crimes.

It's true, even I understand that in the world we live in, a democratic and liberal state cannot boycott another democratic state, but there was still a long way to go before agreeing to establish relations with the practically old Germany.

Germany of the past few years is one of Israel's supporters in Europe, and that's a very important and pleasing fact, yet we must not forget its past and definitely not the conduct of the new Germany's legal institutions.