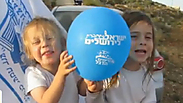 At Jerusalem Day celebrations
The High Court on Monday rejected a petition to change the route of the annual Jerusalem Day march and prevent it from passing through the Muslim Quarter of the Old City, according to local media outlets.

Two NGOs had argued that previous marches had led to calls for violence and provocations.

The justices reportedly said they were committed to combating incitement and would take a zero-tolerance policy towards those shouting racist slogans.

A police representative assured the court that law enforcement personnel were prepared to document instances of incitement and make arrests, said news sources.

Petitioners said the parade would unfairly disrupt local residents' lives, as it would force them to stay in their homes and close their businesses

The march is scheduled for Jerusalem Day on May 17, a national holiday commemorating the reunification of Jerusalem after the Six Day War in 1967.

Last year's march was marred by nationalistic violence. Masked Palestinian youths attacked police officers with stones and then barricaded themselves inside the Al-Aqsa Mosque. One officers sustained light injuries.

Elsewhere, two young Jewish men were attacked in Jerusalem's Old City, they sustained light injuries and did not require medical attention. A young Arab man was also attacked, and said he was accosted by a group of Jewish youths.