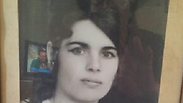 Hasiba Shahala. 'She won't be forgotten'
Photo: Courtesy of the family
It happened 41 years ago: The terror cell that infiltrated Israel and carried out the terrible Ma'alot massacre also murdered a Christian Arab woman on its way to carrying out the attack in the north of the country. And from Tuesday, for the first time since she was killed, her name will appear on the plaque in memory of the victims.
On May 12, 1974, a terror cell that had crossed the border from Lebanon into Israel at night encountered a van carrying workers who were on their way home to their village of Fassuta – and opened fire on the vehicle. The attack resulted in the death of Fassuta resident Hasiba Shahala, 27, a Christian Arab; the driver and eight other passengers were wounded.
The terrorists then proceeded to Ma'alot, where they broke into the home of Yosef and Fortuna Cohen and murdered the couple and their four-year-old son, Eli. From there, the cell headed for the Netiv Meir Elementary School where students and teachers on a school trip from Safed were lodged.
The ensuing two-day hostage situation ended when IDF special forces from Sayeret Matkal stormed the building. The incident culminated in the death of 22 students and teachers and an IDF soldier, Shmuel-Silvan Zerah, who wasn't a part of the IDF assault force.
In the wake of the massacre, the school established a memorial to the victims that displayed the names of the students, teachers, the Cohen family and the IDF soldier – but Hasiba's name was nowhere to be seen.
Recently, however, a memorial to the massacre, to be unveiled on Tuesday evening, was erected in Safed; and the city's mayor, Ilan Shohat, decided to add Hasiba's name to the list of victims for the first time.
"We are very excited," Hasiba's sister said on Monday. "Finally, after the lengthy injustice, my sister's name will also be commemorated – and in this way, she won't be forgotten. Hasiba was beautiful and kind and worked in agriculture and textiles to help support the family."