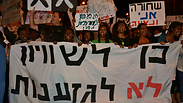 Protest in Haifa
Photo: George Ginsburg
Some 500 people protested in the Carmel Center in Haifa on Tuesday against police brutality and discrimination against Israelis of Ethiopian origin.

Approximately half of the demonstrators were members of the Ethiopian community and the rest were residents of the city who had come to show solidarity. During the demonstration, police blocked roads in the area.

The protestors carried signs that read "Don't distinguish blood from blood, we are all humans," "Yes to equality, no to racism," "We are all Yosef Salamsa" (a young Ethiopian Israeli who took his own life last July after alleged police harassment).



Some 5,000 members of the Ethiopian community live in Haifa, many of whom live in economically distressed neighborhoods in the southern part of the city.

One of the organizers of the demonstration, Salam, said before the event that "after 30 years, the country should provide answers to the question of how it's possible that members of the community continue to suffer from discrimination and crime in the neighborhoods they live in."




Another organizer, a young man named Sasha, explained that although he was not a member of the community, he was angered by the discrimination he saw aimed at them: "If Salam and I will go look for a job together, he'll continue searching long after I'll find one, and it's only because of the color of his skin."