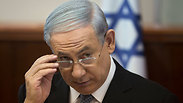 As Prime Minister Benjamin Netanyahu works toward the swearing in of his fourth government, a letter was uncovered by Ynet on Wednesday morning, sent by former European officials to US Secretary of State John Kerry and Federica Mogherini, the EU foreign minister, saying that Netanyahu's re-election demands a new policy - one that would focus on forcing Israel to the negotiating table with the Palestinian Authority.

"We have for some time regarded the Oslo-Madrid process as effectively defunct," wrote the officials who included Spain's previous Foreign Minister Miguel Moratinos, former NATO Secretary General Javier Solana, former French Foreign Minister Hubert Védrine, former Prime Minister of Holland Dries van Agt, former Prime Minister of Ireland John Bruton, and others.

The letter blamed "Palestinian disunity," and, "Israel's lack of interest," as the reasons for the failure of the peace process so far before attacking Netanyahu specifically, saying, "We are convinced in our own minds that he has little intention of negotiating seriously for a two-state solution within the term of this incoming Israeli government."

In order to change the status quo of failed peace talks, the letter's signatories insist that EU relations with both Israel and the Palestinians should be based on their efforts to reach a peace agreement, a policy which currently translates into support for Palestinian efforts to join international institutions and a boycott Israeli goods produced in the West Bank.

Yet criticism was not limited to Israel and its potential peace partner. The letter also questioned America's role in talks between Israel and the Palestinians, suggesting that they envision the EU playing a central role in the future. "We... have low confidence that the US Government will be in a position to take a lead on fresh negotiations with the vigor and the impartiality that a two-state outcome demands."