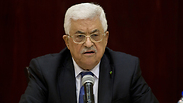 Mahmoud Abbas
Photo: Associated Press
The Vatican officially recognized the state of Palestine in a new treaty finalized Wednesday, immediately sparking Israeli ire and accusations that the move hurt peace prospects.

The treaty, which concerns the activities of the Catholic Church in Palestinian territory, makes clear that the Holy See has switched its diplomatic recognition from the Palestine Liberation Organization to the state of Palestine. The agreement "aims to enhance the life and activities of the Catholic Church and its recognition at the judicial level," said Monsignor Antoine Camilleri, the Vatican's deputy foreign minister who led its six-person delegation in the talks.

The Vatican had welcomed the decision by the UN General Assembly in 2012 to recognize a Palestinian state. But the treaty is the first legal document negotiated between the Holy See and the Palestinian state and constitutes an official recognition.

Vatican officials stressed that although the agreement was significant, it certainly did not constitute the Holy See's first recognition of the State of Palestine. "We have recognized the State of Palestine ever since it was given recognition by the United Nations and it is already listed as the State of Palestine in our official yearbook," Vatican spokesman Father Federico Lombardi said.

The Israeli foreign ministry said it was "disappointed" by the development. "This move does not promote the peace process and distances the Palestinian leadership from returning to direct and bilateral negotiations," the ministry said in a text message. "Israel will study the agreement and will consider its steps accordingly."

The treaty was finalized days before Palestinian President Mahmoud Abbas visits Pope Francis at the Vatican. Abbas is heading to Rome to attend Francis' canonization Sunday of two new saints from the Holy Land.

The Vatican has been referring unofficially to the state of Palestine for at least a year. During Pope Francis' 2014 visit to the Holy Land, the Vatican's official program referred to Abbas as the president of the "state of Palestine." In the Vatican's latest yearbook, the Palestinian ambassador to the Holy See is listed as representing "Palestine (state of)."

The Vatican's foreign minister, Monsignor Antoine Camilleri, acknowledged the change in status, given that the treaty was initially inked with the PLO and is now being finalized with the "state of Palestine." But he said the shift was simply in line with the Holy See's position.

Reuters and the Associated Press contributed to this report.