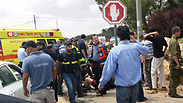 Scene of hit and run
Photo: Benzy Lizerovitch
Four people were wounded Thursday afternoon in a hit and run in Gush Etzion, which the police and IDF suspect might be a terror attack. A Palestinian driver from Hebron was being questioned in connection with the incident.
At around 1:15 pm, a black vehicle with an Israeli license plate drove at high speed heading east on a road outside the West Bank settlement of Alon Shvut and then veered sideways onto a hitchhiking station, hitting a group of people waiting for the bus. The vehicle then fled the scene.
The IDF set up roadblocks and was searching the Halhul area and in villages north of Hebron for the perpetrators. Kfir Brigade troops stopped a vehicle matching the description of the one that hit the pedestrians, and were questioning a Palestinian driver in connection with the incident.
Magen David Adom paramedics who arrived at the scene treated one person in moderate condition and two others who were lightly hurt.
Two of the wounded, teens aged 16 and 17, were taken to the Shaare Zedek Medical Center in stable condition. One suffered moderate wounds to his pelvis and was being prepared for operation, while the other was lightly wounded and receiving treatment at the hospital's trauma room.
Two others were taken to the Hadassah Medical Center in Jerusalem's Ein Kerem - a 20-year-old in serious condition and a 25-year-old lightly hurt.
Three of the wounded are students: Two of them attend a high school in the settlement of Efrat and the third is a student in the Yeshivat Har Etzion in Alon Shvut.
Moshe Savil, the deputy head of the Gush Etzion Regional Council, called on the IDF and other security forces "to return the sense of security to the Gush, increase security, and limit the entrance of Palestinians to crowded places."
Roi Yanovsky contributed to this report.