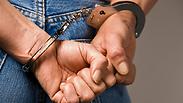 Illustration
Photo: Shutterstock
One person is murdered in Israel every three days, according to a new Planning Directorate crime report for the year 2014 released on Wednesday.
The report also showed there is a murder attempt every day and a half and that on a given day, 971 crimes are committed on average and 170 people are arrested.
But not all is bleak - the report noted 2014 had the lowest crime statistics in a decade, with a drop in offenses all across the board.
In 2014, there were 354,606 files opened compared to 364,403 the year before – a 2.7 percent drop.
There were 42.8 criminal files opened for every one thousand people in 2014, compared to 44.8 in 2013. On the other hand, there was an increase in the number of arrests made in 2014, with 61,975 arrested in 2014 compared to 58, 410 the year before – a six percent increase.
The most common criminal offense carried out in 2014 was property theft with 157,113 cases, followed by public order offenses (disturbing the peace, illegal congregation, blocking roads, attacking a police officer etc.) with 128,989 cases.
There were 60,607 physical offenses, and 28,422 moral offenses (pimping, soliciting prostitution, drug trafficking). Furthermore, there were 16,250 cases of fraud, 15,643 security related offenses and 5,975 sexually related crimes committed.
The total number of offenses against a person (murder, attempted murder, manslaughter and causing death) stood at 4,215 in 2014.
In 2014, 11 women were murdered by their husbands, a decrease compared to 2013 when 15 women were murdered by their spouses. However, there was an increase in the number of severe attacks that take place a day on average – 18,740 total cases in 2014 compared to 16,974 cases in 2013, a 10.4 percent increase.