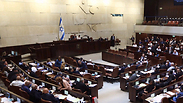 Knesset plenum
Photo: Gil Yohanan
A Knesset plenum on Thursday evening voted 61-59 in favor of swearing in Israel's 34th government.

The ceremony began at 9 pm, two hours after the original scheduled time, as Prime Minister Benjamin Netanyahu worked to finish appointing ministers from within his own party.

The day, intended as a celebration of democracy at work, devolved into a political circus as two key Likud politicians – Gilad Erdan and Silvan Shalom – had yet to receive a portfolio until the ceremony actually commenced, when Netanyahu urged Erdan to reconsider his position and announced Shalom as interior minister and deputy prime minister.

Erdan and Shalom had eyed the foreign ministry, but their hopes were dashed when MK Tzipi Hotovely received an assurance from Netanyahu that she would serve as a deputy in the ministry while the top post was to remain vacant.

Tzachi Hanegbi was announced as coalition chairman and the chairman of the Knesset's Foreign Affairs and Defense Committee.

Opposition chief Isaac Herzog attacked the new government during the ceremony. "This is not the government the people wanted and not even the government that half of the people wanted," he said. "You bought control with lies. After such negotiations, you still dare give the world advice about negotiations with Iran?"

Herzog also criticized the decision to expand the number of ministers. "My way is not your way," he said. "No respectable leader will join your government."

Prime Minsiter Netanyahu, on his part, decried the system of government, saying it must be changed. "It encourages extravagant, excessive demands both by parties and by individuals," he said.

A source in the Knesset said in the evening that "what is happening here is a circus" after a last-minute crisis between Netanyahu and the two senior members of his faction led to the delay of the Knesset swearing in session.

The MKs and ministers received a message of the postponement; even the president received a late warning of the delay due to the mess in the legislature and the Prime Minister's Office.

When President Reuven Rivlin's staff then asked the officials responsible for the ceremony about the postponement, the Knesset staff denied the delay.

Erdan remained in his home during the evening hours and has yet to depart to the Knesset because he has rejected all offers from Netanyahu and his staffers. The senior Likud MK will arrive to the scheduled vote on the new government, but may not take part in the ceremony.

Sources close to Erdan said he had no intention of spoiling the swearing in or damaging the ability of the coalition to approve incoming ministers.