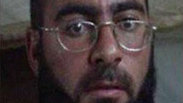 Abu Bakr al-Baghdadi, the ISIS leader gravely wounded in a reported US-led coalition airstrike some two months ago, released an audio tape Thursday calling on supporters to join him or to take up arms wherever they live in the world.

"There is no excuse for any Muslim not to migrate to the Islamic State... Joining (its fight) is a duty on every Muslim. We are calling on you either join or carry weapons (to fight) wherever you are," Abu Bakr al-Baghdadi said in the statement, issued by the group's al-Furqan media outlet and posted on several websites.

In the recording, the terror leader mentions the Saudi-led military campaign in Yemen, which began March 26, lending credence to claims that Baghdadi survived the coalition strike.

The recording was released with translations in several languages including English, French, and German – in an attempt to reach as many ISIS fans in the West.

It remains unclear whether the tape was released as a specific order to ISIS affiliates in the West or a general call for attacks on its enemies. The Western coalition against the terror group includes several Arab nations and has been executing strikes on ISIS position in Syria and Iraq for several months.

The timing of the tape suggests its intention to counter claims in the West that Baghadadi was no longer in charge of ISIS. Baghdadi was recently reported to have been incapacitated by a coalition airstrike in the same part of Iraq, and Afari was tipped to assume leadership of the organisation. The Pentagon in Washington has denied those reports, saying Baghdadi remains capable of directing operations and was not wounded in any strike.

Iraq's Defense Ministry said on Wednesday the second most senior member of Islamic State had been killed in a coalition air strike on a mosque where he was meeting with other militants in the north of the country.

"Based on accurate intelligence, an air strike by the coalition forces targeted the second in command of IS, Abu Alaa al-Afari," the ministry said in a statement on its website.

Abu Alaa al-Afari, whose real name is Abdul Rahman Mustafa Mohammed, is an ethnic Turkmen from the town of Tel Afar in northwestern Iraq, and is thought to be second in command of ISIS after self-proclaimed caliph Abu Bakr al-Baghdadi.

The Pentagon said it was aware of the reports but could not confirm them.

Reuters contributed to this report.