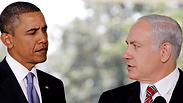 Netanyahu and Obama. (Photo: Reuters)
Photo: Reuters
Just a short while after Prime Minister Benjamin Netanyahu's fourth government was sworn in with Knesset approval in Jerusalem, US President Barack Obama spoke from a Camp David summit with the leaders of Arab gulf states, voicing concern over the makeup of the 34th government of Israel.

"I continue to believe that a two-state solution is absolutely vital for not only peace between Israelis and Palestinians, but for the long-term security of Israel as a Democratic and Jewish state and I know that a government has been formed that contains some folks who don't necessarily believe in that premise," said Obama.

The President said the current chance of reaching a peace deal, "seems distant," and hailed what he called the, "incredible vision and courage," of the Camp David Accords signed in 1978. He said that, "tough choices resulted in what's now been a lasting peace between countries that used to be sworn enemies and Israel's better off for it. I think the same would be true if we get a peace deal between Israelis and Palestinians."

Obama declined to comment on the Vatican's recent decision to recognize the state of Palestine. The US hasn't made such a decision.

Obama also pledged Washington's "ironclad commitment" to the Sunni governments of the Persian Gulf and even spoke of authorizing US military force if their security is endangered by Shiite Iran or anyone else. The United States, he vowed, will "use all elements of power to secure our core interests in the Gulf region, and to deter and confront external aggression against our allies and partners."

Obama invoked the start of a "new era of cooperation" that would last for decades to come, even as Saudi Arabia and others in the region are deeply unnerved by the prospect of an accord with Iran that would impose a decade-long freeze on its nuclear program and potentially provide it tens of billions of dollars' worth of relief from international sanctions. The Sunni governments came to Washington looking for assurances that Obama would pair his diplomatic effort with a broader strategy to push back against Iran's expanding influence in the Middle East.

The US and other world powers hope to clinch a final nuclear deal with Iran by the end of June. This week's talks with top officials from the kingdoms of Bahrain, Kuwait, Oman, Qatar, Saudi Arabia and the United Arab Emirates were announced by Obama on April 2, when a framework with the Iranians was sealed.

Obama rarely uses Camp David for personal or official business and White House aides hoped the more intimate setting would foster candid conversation. But just two other heads of state - the emirs of Qatar and Kuwait - attended. The others sent lower-level, though still influential, representatives.

The most notable absence was Saudi King Salman, who announced over the weekend he was skipping the event only two days after the White House announced his attendance. Crown Prince Mohammed bin Nayef and Deputy Crown Prince Mohammed bin Salman represented Saudi Arabia instead.

The most embarrassing absence, for the U.S., was Bahrain's King Hamad bin Isa Al Khalifa. He rejected the summit for a horse show in Britain and meeting with Queen Elizabeth II.

The White House and Saudi officials insisted the king was not snubbing Obama. But there are indisputable strains in the relationship, driven not only by Obama's Iran overtures but also the rise of Islamic State militants and a lessening US dependency on Saudi oil.
Iron Dome for everyone
A renewed joint commitment to build the regional defense system was one of the few firm outcomes of Thursday's Camp David summit between President Barack Obama and Gulf allies, which were seeking fresh US defense pledges ahead of a possible nuclear deal they fear will empower arch-rival Iran.
Past efforts have stalled due to tension and mistrust within the six-nation Gulf Cooperation Council (GCC) but US and Gulf officials say the time is now ripe to push ahead as Arab nations mount more joint military missions.
A joint statement following the summit said that the GCC states were committed to developing a ballistic missile defense capability, including an early warning system, with US technical help. Washington pledged to fast-track arms transfers to the GCC states and to send a team to the region in the coming weeks to discuss the details.
An integrated defense system would allow Gulf countries to better repel an Iranian attack, stitching together their radars and interceptors to counter a range of different missiles.
The system would use US early-warning satellites and a mix of US and Gulf radars to detect the launch of an enemy missile and fire a ground- or sea-based missile to destroy it far above the earth.
Reuters contributed to this report.