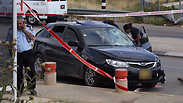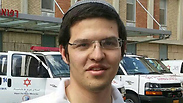 Benjamin Frenkel who was lightly hurt in the attack
Security footage from the scene of the vehicular attack outside Alon Shvut on Thursday, which left four people wounded, shows the terrorist driving his car at high speed and ramming into two of the victims.

After hitting the pedestrians who were waiting at a bus stop outside the Gush Etzion settlement, the car is seen speeding away.

The security camera that captured the footage was privately installed by the Alon Shvut residents, who claim the Defense Ministry refuses to help fund the settlement's security cameras.

The Shin Bet said Thursday evening it arrested the suspected driver, 22-year-old Muhammad al-Rafahiya from Hebron, who was released a year ago from Israeli prison after serving time for offenses of rock-throwing and carrying of cold weapons.

In his initial interrogation, al-Rafahiya admitted to committing the attack and said he was operating to hurt Israelis out of nationalistic motives.

The Shin Bet said they were looking into the possibility that "incitement online and on Facebook cause him to commit the attack, similar to previous lone attackers."

At around 1:15 pm, a black vehicle drove at high speed heading east on a road outside Alon Shvut and then veered sideways onto a hitchhiking station, hitting a group of people waiting for the bus.

The IDF set up roadblocks and searched for the perpetrators in the Halhul area and in villages north of Hebron. Kfir Brigade troops arrested the suspected driver minutes after the attack.

Benjamin Frenkel, aged 25, who was lightly wounded, recounted the attack: "Myself and another person were standing at the station because we both had to get home. He saw the car coming out of the corner of his eye, grabbed me, and called out 'Move!' We moved but the car hit. I was thrown back a meter away, and he was thrown back further. I got up and reported the incident. I ran to try and get to the car but he fled."