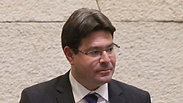 Ofir Akunis. Netanyahu's poodle
Photo: Knesset Spokesman
Regardless of his or her political allegiance, every Israel citizen who witnessed the scenes in the Knesset on Thursday night must have wanted to die of shame.
The Knesset has seen shameful goings-on before, but never – as far as I recall – of the magnitude we saw on Thursday night, when the prime minister took that scrap of crumpled paper out his pocket and began reading out the list of ministers in his new government, including the names of many who were hearing about their appointment for the first time and others who learned just then that they had been given jobs they had not agreed to take.
The swearing-in of the new government, the culmination of two months of negotiations, proved beyond a shadow of a doubt that the establishment of Benjamin Netanyahu's fourth government could not have been executed in a more negligent and dishonorable fashion. And this is a prime minister who has the cheek to preach morals to the US president about the manner in which the latter is involved in talks with Iran.
Fifty-five days and 30 Knesset seats – and that's all Netanyahu could muster and offer to the people. And I don't mean only a narrow coalition whose days already appeared numbered and filled with misery. Netanyahu also handed out ministerial appointments to members of his Likud party seemingly at random; ministries were dismantled for the sole purpose of upgrading dissatisfied ministers; and sections of some ministries were combined with parts of others without any rhyme or reason.
And thus we find ourselves with the Transportation Ministry paired off with the Intelligence Ministry, and the minister for immigrant absorption also responsible for strategic threats. And with no more jobs left to hand out, the prime minister goes ahead and makes a rank-a-file Knesset member a "minister." Minister of what? Who knows? When pressed for time, Netanyahu is quick to make appointments.
Op-ed: One by one, the Likud faction members arrived at the corridor leading to the prime minister's bureau to receive their portfolios in the next government. They felt degraded and disgruntled – just like Netanyahu likes them.
Take Benny Begin, for example. The name of his father, Menachem Begin, was mentioned in the Knesset on Thursday night – by Isaac Herzog of all people actually. What could Begin Jr. have felt when he heard for the first time that Netanyahu was making him a minister?
And what could Tzachi Hanegbi – a serious and experienced politician, and one of the Likud's most eloquent spokesmen – have thought when he heard that in addition to being chairman of the Knesset Foreign Affairs and Defense Committee, a position he has held for years and wished to be relieved of, he was also being made coalition whip – a thankless task that he didn't ask for and didn't agree to take on?
As if all that wasn't enough, Netanyahu had another surprise in store for Hanegbi: Ofir Akunis will be switching jobs in a year from now. In other words, Hanegbi will become a "minister" and Akunis will assume the role of Netanyahu's poodle.
And then there's Gilad Erdan, No. 1 on the Likud's Knesset list, the Netanyahu family's most loyal supporter, who laid down his life in the television studios to defend the couple's behavior. How did he feel when Netanyahu called on him to join the government but failed to leave a single position open for him? How ungrateful does one have to be to do something like that to an individual who has never once undermined the prime minister's wishes?
As I see things, following Herzog's excellent speech, which completely shut the door to the possibility of the Zionist Union joining the government, the prime minister would do well to appoint Erdan as his foreign minister. The excuses not to do so have run dry. There's no point in hanging on to the position of foreign minister; there's no one to hold it for.
After threatening not to serve in the government if he wasn't given the Foreign Ministry, Silvan Shalom capitulated in return for a post that isn't worth the paper it's written on – deputy prime minister. On Thursday morning, Shalom slammed the door on the offer to become interior minister; by Thursday evening, he threw the door wide open again on receiving a meaningless position.
The fourth Netanyahu government set out on its road on Thursday night – a narrow coalition comprising the Likud, the right and the ultra-Orthodox. Our calling card to the world as of Friday morning comes in the form of Tzipi Hotovely, who is wont to encourage Jews to make pilgrimages to the Temple Mount. Some will say that we got what we deserved. But that's not true. No one deserves this.