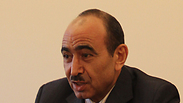 Ali Hasanov: We are friends with Israel and Iran
Photo: Billie Frenkel
Situated on the Western shores of the Caspian Sea, Azerbaijan, a secular country with a Shia Muslim majority among its 9.5 million-strong population, is considered one of Israel's closest friends.
The hundreds of oil pumps in operation on the outskirts of the Azeri capital, Baku, are evidence of the country's firm economic anchor, with the black gold responsible today for 70 percent of Azerbaijan's state revenues. The worldwide fall in oil prices, however, is prompting the young country, which gained independence only in the late 1990s, to invest in new directions too.
During our visit there, on the eve of the inaugural edition of the 2015 European Games, which will take place in the capital, Baku, in June, we tried to understand how the country's close ties with Israel fit in with its relations with both Turkey and its neighbor to the south, Iran. We also learned a little about the challenges facing Azerbaijan, and the bitter conflict with its neighbor to the west, Armenia, in particular.
Israeli invasion
Initially, Israel's relations with Azerbaijan remained largely under wraps; but recent years have seen numerous public visits to the country by senior Israeli officials, including Moshe Ya'alon, Avigdor Lieberman, Shimon Peres and Benjamin Netanyahu.
And these days, Azerbaijan is responsible for more than 40 percent of the oil supply that reaches Israel – in return for arms deals to the tune of billions. Furthermore, according to some reports, very close intelligence ties between the two countries give Israel the freedom to operate in sensitive regions.
Rumors circulated in the past, and subsequently denied, also claimed that Israel is providing Azerbaijan with assistance in its ongoing conflict with Armenia, and that Israel would have access to Azeri air force bases for the purpose of carrying out an attack on the Iranian nuclear facilities.
These rumors have stirred problems for the young country. "Iran is our neighbor and we have good and close relations with them in light of the historical ties," we were told by presidential aide Ali Hasanov.
"We cooperate but we don't intervene in internal politics and maintain neutrality – we are friends with Russia and the United States, with Israel and Iran, and there are many more examples like this."
The main challenge
The main challenge Azerbaijan faced on gaining independence was the war that broke out with Armenia over the Nagorno-Karabakh region. The sides signed a ceasefire agreement in 1994, but the conflict is still ongoing, with violent incidents still taking place today along the border between the two countries.
According to the head of Azerbaijan's Department of International Military Cooperation, Hussein Mahmudov, the country's struggle with Armenia is a military challenge of the highest order.
"Our relations with Israel help to improve the military capabilities of the country," he said. "Israel is facing similar challenges and understands the situation. We are a tolerant country and we have a common background. The Jews who live here are Azeri citizens and it doesn't matter what they believe in."
Mahmudov accused the Armenians of aggression, claiming they have violated the ceasefire agreement on no less than 4,000 occasions since the beginning of the year.
"The Armenian side is occupying land and firing at the local population and villages," he said. "We want to liberate the occupied areas and need to be prepared to do so. Seventy percent of the army is deployed along that front and we conduct many exercises."
On a more global level, Mahmudov added, Azerbaijan "wants to forge good relations with everyone – Russia, Turkey, Iran and Israel – in order to boost our own security.
"Over the past 15 years, we have managed to achieve stability. Our oil pipes run through Russia to European markets; and when it comes to defense, we would like good relations with all the countries. In other words, if we have ties with Iran, that doesn't mean we are against Israel."
Tolerance and community
Lev Spivak, chairman of the Israel-Azerbaijan Association, says it is widely believed that Israel has some 70,000 Jews from Azerbaijan. Some are integrated into the oil and gas industry in Israel, thanks to the experience they gained overseas. Today there are about 30,000 Jews left in Azerbaijan, most living in Baku.
Alongside the extreme tolerance is some cause for concern. There have been attempts to carry out attacks against Israeli citizens in Azerbaijan, and some Azeri have joined the ranks of Islamic State. But the country reacted harshly to these phenomena, and last year enacted a law that permits imprisonment for anyone who travels abroad for the purpose of military operations such as these.
"There are good times and there are worse times," Mahmudov says. "Terrorism is a problem for everyone and that is why it is important to maintain good relations with everyone."
Religious tolerance is a source of pride for the Azeris, and is expressed in a plethora of customs and traditions, joint celebrations of holidays and marriage between members of different religions. Tolerance is manifested even in relations with the Jewish community, which has ancient roots in the region, stretching as far back as the Babylonian exile.
Meeting with the Jewish residents of the area reveals that some practices have been borrowed from the local culture. For example, in the ancient, mountainous city of Quba - which boasts some 4,000 Jews today, we were asked to remove our shoes at a synagogue, and all women, even those who are unmarried, cover their heads.
In Baku, the owner of our hotel told us in fluent Hebrew that he is the son of a Jewish father and a Muslim mother, and that he too has a Muslim wife. But, he says, he and his children are considered Jewish, they believe a child's religion is determined by the father and not the mother.
Mutual learning
The areas in which Azerbaijan seeks to grow stronger through cooperation with Israel, include medicine, high-tech, water and mainly agriculture - there is a broad range of agricultural activity in Azerbaijan thanks to no fewer than nine different climatic zones. There are currently 39 Israeli companies operating in the country, with contracts worth more than $360 million, including housing and construction and irrigation.
"We have good relations both politically and economically with Israel," says Deputy Economic Development Minister Sevinj Hasanova. "Last year, Israel was our fifth largest trade partner, after Italy, Russia, Malaysia and Germany. A substantial amount of oil was going to Israel, but we can make better use of our relationship in the future, and increase cooperation."
Israeli Ambassador to Azerbaijan Rafael Harpaz says that following the gas discoveries in Israel, there is a desire to learn from Azerbaijan.
"Azerbaijan is a country that has vast experience in the fields of oil and gas," he says. "We have a great desire to learn from Azerbaijan in this field, and they are willing to share their experiences. Moreover, relations between Israel and Azerbaijan are good, special; I would even describe them as strategic, with cooperation in a number of areas. "
Harpaz predicts a bright future for the country, thanks to its cooperation with Israel.
"This country is going to grow," he says. "It is greatly expanding in many areas, and Israeli technologies, particularly in the non-energy fields, are exactly what this country wants to develop. There is a lot of activity from Israeli companies here and many senior Azeri officials are going to Israel and bringing back the relevant Israeli technologies."