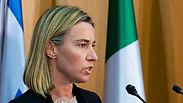 Federica Mogherini
Photo: Associated Press
EU foreign policy chief Federica Mogherini will visit the Middle East next week for talks on the peace process with Israeli Prime Minister Benjamin Netanyahu and Palestinian President Mahmoud Abbas, Brussels said Friday.

Her visit on Wednesday and Thursday, which comes just days after Netanyahu started a new term as Israeli premier, will be "to discuss the bilateral relations as well as prospects for the Middle East Peace Process," her office said.

The former Italian foreign minister will also meet a number of other Israeli and Palestinian officials, the statement from her office said without giving further details or the exact venue of the talks.

Mogherini took over as foreign policy chief for the 28-nation European Union in November and visited Israel and the Palestinian territories shortly afterwards, saying she wanted to make a priority of pushing forward the Middle East peace process.

She has been criticized by some in Israel for her vocal insistence that a two-state solution is the only way forward and for her condemnation of Israeli settlement-building.

Mogherini said in March that the European Union was committed to re-launching the peace process, shortly after Prime Minister Benjamin Netanyahu won re-election. "We are at a crucial moment, with many threats all over the Middle East.

"The EU staunchly supports a peaceful resolution of the Israeli-Palestinian conflict, in the interest of the Israeli people, of the Palestinian people and of the whole region. We are at your side, you can count on us," Mogherini assured, calling on a "bold leadership" to reach "a comprehensive, stable and viable settlement of a conflict that has already deprived too many generations of peace and security."

"It's time to turn this page and I'm confident that we can work together with the international community for a solution that will guarantee peace and security in the Middle East," she added.

Reuters contributed to this report.