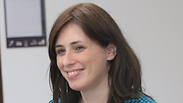 Tzipi Hotovely
Photo: Motti Kimchi
Tzipi Hotovely, only 36 years old, was appointed on Thursday as Israel's deputy foreign minister. Since Israel currently has no foreign minister, Hotovely is Israel's most senior diplomat.

She is the one who will have to squabble with the Palestinians at the UN and other international organizations, fight the BDS campaign that has been gathering momentum, and stop the deterioration in relations with the European Union, which is gearing up for a public diplomatic confrontation with Israel. Hotovely is the one who will have to explain to the world why Israel has a right to build beyond the Green Line, and why the Israeli government believes there is no partner for peace on the Palestinian side.

It is no secret both the Israeli Foreign Ministry and the international diplomatic community expected someone else - someone who has much more moderate positions and does not publicly reject the two-state solution. Many in the Foreign Ministry and among Israel's ambassadors hoped that person would be outgoing deputy foreign minister Tzachi Hanegbi, who has shown himself to be the government's voice of reason in recent months.

Hotovely's appointment and the lack of a minister to lead the Foreign Ministry indicates most of all that the prime minister believes this term will not include negotiations with the Palestinians, but rather more confrontations on the international stage.

This is why he wanted Hotovely, the religious-Zionist sector's princess, who is known for her sharp tongue, her belief in the right-wing's way, and her eloquent English. Netanyahu thought that at this time, it would be better to appoint to the Foreign Ministry a religious Zionist woman who believes in the historical bond connecting the people of Israel with the land of Israel, and opposes the concession of lands.

Last term, Netanyahu appointed Ze'ev Elkin, a settler from Gush Etzion, as deputy foreign minister. That appointment also raised some eyebrows, but Elkin managed to surprise everyone. He proved to be very clever and despite the fact his opinions were firmly in the ideological right, he was able to have a constructive dialogue with the international community and was able to put out quite a few diplomatic fires with cunning and discretion.

"Hotovely's appointment is definitely an indication of where this government is heading," a senior European diplomat told Ynet. "This is not our policy and not what we would have liked to see happen here. But you have to remember the prime minister is the foreign minister and as far as we are concerned, he is committed to the two-state solution. We will have to see how that works with the deputy foreign minister's views. We will definitely treat her with the utmost of respect and give her a chance."

As she begins her role as deputy foreign minister, Hotovely tells Ynet that the international community and the Foreign Ministry's officials do not need to worry about her positions or past comments.

"I don't intend to shoot from the hip," she says, and promises to promote a significant change in Israeli hasbara (PR) in the world and increase Israel's presence in the world media.

"If someone comes with right-wing, nationalistic positions - at the end of the day these are the positions of the prime minister," she notes. "There is an existential challenge and this is what we should be worried about - the diplomatic terrorism of some countries in the world who are not willing to recognize Israel and do not understand that the State of Israel, as the only democracy in the Middle East, is actually an international interest and not just an Israeli one. A lot of hope can come out of this, and not fear."

How do you plan to deal with the threats of boycott, divestment and sanctions coming from Europe?

"I received the appointment two days ago at 4 pm, and if I have a work plan to show you now it means I'm not serious. And I am serious. I'm not asking for a 100 days of grace, but rather two weeks so I could dive in and meet with the relevant people. There must be a lot of people who will be happy to share their experience."

How do you plan to neutralize France's threat to pass a resolution at the UN Security Council setting a timeframe to the formation of an independent Palestinian state in the pre-1967 borders?

"These issues are well known, but on the other hand I have not had any work meetings with the prime minister on almost none of the big issues. I will not do things without coordinating with the person who, at the end of the day, is perhaps the most experienced diplomat in Israel. I will not give any kind of technical answer before entering the Foreign Ministry and meeting with the prime minister."

What do you think of the crisis in relations with the United States and how do you think these ties can be mended?

"The relations with the US are excellent. Period. The US is an ally and a lot more than just our greatest friend. This alliance has never been broken. Disagreements between the White House and the prime minister of Israel can happen; this is something that has happened in the past. I don't think we need to worry about differences of opinion between leaders. It comes hand in hand with our independence as a state. We are also in a time of leadership change in the US. Obama is about to finish his term. It will be very interesting to see who enters the White House instead."

Under certain conditions, would you agree to returning lands to the Palestinians?

"I will quote the prime minister on this issue - there is no such scenario. Every land Israel has evacuated has turned into a base for terrorism. Past experience teaches us that not only does it not promote regional peace; it mostly strengthens extremist forces that reject Israel's existence. There is a process of de-legitimization of Israel that has nothing to do with its borders, but to the fact the Jewish people returned to their land and established a state here within an Arab area. Today we need a high-level of hasbara and high diplomatic capabilities."

As deputy foreign minister you will have to host many leaders and delegations. As a religious woman who observes negiah (a Jewish law that forbids or restricts physical contact with a member of the opposite sex), are you going to shake a man's hand?

"This is not a problem. There is a story about one of the great rabbis, Hatam Sofer (Moses Sofer), who met with the Queen of England and shook her hand. The Jewish halacha (law) does not forbid what is considered manners. Within the Israeli political system, I, as a religious woman, tell anyone who meets with me that it is a part of the halacha. But when someone meets with foreign representatives, the halacha recognizes politeness, manners, and showing respect. This would not be a problem. The Jewish halacha also says it is forbidden to shame someone - meaning if someone offers his hand to shake, you have to return it. But when it comes to diplomatic relations, it is a different category. This is the custom in the world, and it is not meant to show anything beyond professional work relations."
Who is Tzipi Hotovely?
Hotovely was born in December 1978 in Rehevot to Gabriel and Roziko, who immigrated to Israel from Georgia, then part of the former Soviet Union. She attended the Bnei Akiva Tel Aviv Ulpanit and then went on to do a two-year national service as a tour guide at the House of Rabbi Kook in Jerusalem and as a representative of the Jewish Agency in Atlanta, GA, where she also got her good English. She continues using her English to represent Israel abroad and in the international press, and does not shy away from confrontations on Al Jazeera, CNN and the BBC.

Hotovely graduated law school at Bar-Ilan University with honors and interned in the law office of Ram Caspi in Tel Aviv, specializing in Corporate Law, and became a certified lawyer in 2003. During her studies she was active in the World Union of Jewish Students (WUJS) and represented the organizations in international conferences. She also served as the World Bnei Akiva's representative to France.

She caught Netanyahu's eye after the Second Lebanon War, when she appeared on TV presenting clear right-wing positions and criticizing the Olmert government. This paved her path to the Likud party, which she joined in November 2008, winning the 18th spot on the list. She was chosen to chair the Committee on the Status of Women and Gender Equality and passed a law extending maternity leave from 14 weeks to 26 weeks, without pay, and a law that prohibits photographing victims of sexual offenses for use in the media.

During her tenure at the Committee on the State of Women and Gender Equality, she invited in 2011 representatives from the Lehava organization (Prevention of Assimilation in the Holy Land), which in 2015 was recognized in Israel as a terror organization, to a discussion on their activity to prevent romantic relationships between Jews and Arabs. Hotovely defended her decision at the time, saying, "it is important to me to check systems to prevent mixed marriages, and Lehava are the most suitable for this."

In past interviews to the media, Hotovely was very open about her fierce opposition to conceding land and to the formation of a Palestinian state. "My position is that between the sea and the Jordan River, there needs to be one state only - the state of Israel, which has an Arab minority. There is no place for an agreement of any kind that discusses the concession of Israeli sovereignty over lands conquered in accordance with law and custom in the war of '67," she said in a radio interview.

She believes Israel needs to annex the West Bank and even grant the Palestinians living in these lands a partial citizenship. "I'm in favor of giving them the right to vote," she said in the past.

Hotovely was also one of the vocal opponents of freezing settlement construction and many of her Likud supporters live in the settlements.

Hotovely believes there is no partner on the Palestinian side, and places the responsibility for the diplomatic freeze solely on the Palestinians.

"I want Abbas to pay a price to show he is serious. What I'm asking him is whether he is willing to accept an end to the conflict when a Palestinian nation-state, which has failed to form many times because of Arab intransigence, is formed. Whether he will accept a Jewish state alongside an Arab state, which will be called the State of Palestine."

On Judea and Samaria she said in the past: "These are our lands as the Jewish people, these lands are our heritage lands, which is why I don't see us as occupiers. We did not want the '67 war, and in many ways it was forced on us. And I think that in reality there are a lot of cases in which you lose lands in a war, and this is what happened. We also did not take lands from another country. There was Jordanian sovereignty and Jordan gave up on these lands. So there is really no reality in which people grew up as part of a Palestinian people in a Palestinian state, because there was no Palestinian state and no Palestinian people recognized in the world."