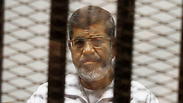 Morsi behind bars in 2014
Photo: Associated Press
WASHINGTON - The United States is "deeply concerned" about an Egyptian court decision to seek the death penalty for former president Mohamed Morsi, a State Department official said Sunday.

"We are deeply concerned by yet another mass death sentence handed down by an Egyptian court to more than 100 defendants, including former President Morsi," the official said after the court's ruling was announced on Saturday, drawing condemnation from rights group Amnesty International.

"We have consistently spoken out against the practice of mass trials and sentences, which are conducted in a manner that is inconsistent with Egypt's international obligations and the rule of law," the official said. A final decision is expected on June 2.

Morsi, Egypt's first freely elected president, was ousted by the military in July 2013, following days of mass street protests by Egyptians demanding that he be removed because of his divisive policies.

The ousted leader already is serving a 20-year sentence following his conviction on April 21 on charges linked to the killing of protesters outside a Cairo presidential palace in December 2012.

Morsi escaped a death sentence in a separate case before el-Shami related to allegations that Morsi, several of his aides and leaders of his now-outlawed Muslim Brotherhood allegedly passed state secrets to foreign groups, including the Palestinian militant Hamas group and Lebanon's Hezbollah, during his one year in office.

A total of 16 senior Brotherhood leaders and aides were sentenced to death by el-Shami in that case. A verdict on Morsi's role in that case will be announced in the June 2 hearing.

Even if confirmed by the mufti, Saturday's death sentences still can be appealed.

Amnesty International on Saturday called the Egyptian court's decision to seek the death penalty for Morsi "a charade based on null and void procedures" and demanded his release or retrial in a civilian court.