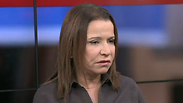 While Zionist Union leader Isaac Herzog is working hard to unite the different factions in the opposition against Prime Minister Benjamin Netanyahu's 61-member coalition, he faces dissension from within.

Labor MK Shelly Yachimovich, Herzog's predecessor, who considers herself to also be his future successor, sent an open-letter to her supporters describing the ideological lines which will guide her as a member of the opposition and affect her behavior and voting.

In her letter, Yachimovich complimented several members of the new government, and promised to support socially-oriented bill proposals that are in line with her socio-economic agenda.

Herzog's allies were furious with Yachimovich, and even blamed her of aiding Netanyahu, particularly at this time when his government is faltering and beginning its term on the wrong foot.

A Labor official called the letter "a transparent move." Yachimovich, he said, "was creating legitimization for herself to dismantle Herzog's opposition on a social-ideological basis. She may believe what she is saying, but it also pays off politically for her. It creates chaos for the sake of chaos. And she needs to prepare the ground for her to challenge Herzog in the primaries in a year."

Despite Yachimovich's unusual move, Zionist Union sources said they believe the letter will not create a rift in the party or the opposition in the short term, but it does set the stage for future cracks to appear.

"There will be cracks in socially-oriented votes," a Zionist Union MK said. "What is happening now will create a situation making it easier for some people to vote with the government based on ideological views, and at the same time get back at Buji," the MK added, using Herzog's nickname.

Yachimovich, meanwhile, rejected the accusations made against her, and explained that she will not be able to vote against socially-oriented legislation that aids large populations.

Her close allies noted that even when she was the head of the opposition, she voted "in favor of things that were appropriate and social."

Yachimovich is also convinced that the opposition is not united because of the presence of Avigdor Lieberman's Yisrael Beytenu's party.

"You think this opposition is united with Lieberman? What do I have to do with Lieberman? You have to say these things and outline a path," Yachimovich said. "On social issues there are some bright spots. The opposition has voted with the government in the past. What did we do during Protective Edge? We went from one studio to the next and justified Bibi because Danny Danon and Naftali Bennett were targeting him from the right. This is how you work."

This is the second time in two weeks that Yachimovich pushes away from her faction. Two weeks ago she refused to enter the party meeting at the Knesset and slammed Tzipi Livni and her co-leadership with Herzog.