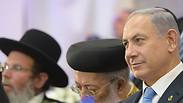 Prime Minister Netanyahu
Photo: GPO
Prime Minister Benjamin Netanyahu said Sunday night that Israel's answer to terrorist attacks aimed at its citizens should be to continue construction in Jerusalem.

"We are determined to go after the terrorists and stand against those who wish to harm us as a fortified wall," Netanyahu said at the annual Jerusalem Day ceremony at the Mercaz HaRav yeshiva.

"And we have another decisive answer: We keep building in Jerusalem all the time, developing it and paving new roads to it," he added.

"Jerusalem is our eternal united capital. It will never be divided again," Netanyahu vowed, describing the liberation and reunification of Jerusalem as a "drama on a Biblical scale."

"Our feet are standing within thy gates, O Jerusalem; Jerusalem, that art builded as a city that is compact together," the prime minister said, quoting from Psalms 122.

"Compact together and will never be divided again," he added.

He promised "to continue protecting Jerusalem. To develop Jerusalem of below, and draw strength from Jerusalem of above, from Torah studying and from all of the spiritual treasures of the people of Israel."

Netanyahu also quoted Rabbi Zvi Yehuda Kook, who was among the first to arrive at the Western Wall on the day of Jerusalem's liberation in 1967 and was asked to make a radio address to mark the historic occasion, saying, "We have arrived and returned home, and we will never leave here!"

"From the days of the Bible and until this very day, Jerusalem has been the basis of our existence... Jews throughout the generations prayed for 'Next Year in Jerusalem'. The Prophet Isaiah made his prophecies here in Jerusalem. There are some among our enemies who say we are a foreign element. Have you heard that?! The Prophet Isaiah and King David were here 3,000 years ago. They prophesized here, reigned here, fought here - until the days of the Maccabees and later. We are not a foreign element! This is our land, and this is our city! This is how it has been and this is how it will continue to be!" the prime minister said.

Education Minister Naftali Bennett also vowed to never allow Jerusalem to be divided again. "To those who sit abroad and think there's some piece of real estate that is negotiable, we say: Jerusalem is the soul of the land of Israel, and you don't divide a soul!"

Earlier in the evening, Bennett attended the traditional Jerusalem Day march to the Western Wall that ended with a ceremony. "Soon, in our time, Jews would be able to go up and pray on the Temple Mount, because the Temple Mount is ours," he said at the ceremony.

Likud MK Gilad Erdan, who chose not to join the fourth Netanyahu government, was also at the ceremony at the Western Wall.

"The City of David, the Mount of Olives, the Old City, the Temple Mount - they will all remain in our hands forever," Erdan said.

He also had a message to Netanyahu: "We need to build in Jerusalem. Not talk about building in Jerusalem, but actually build. Building in Jerusalem should not be a response to an event or a terror attack, it should be routine."

He expressed concern of the changes to the demographic balance in Jerusalem in recent years, saying current construction was not enough to meet the needs of the city's development.