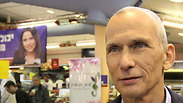 MK Bar-lev. (Photo: Ido Erez)
Photo: Ido Erez
Now nearly one year after the conclusion of Operation Protective Edge, Hamas has resumed digging tunnels along the Gaza border, according to Zionist Union MK Omer Bar-Lev, a member of the Foreign Affairs and Defense Committee. Furthermore, Bar-Lev claimed on Sunday evening that at least one new tunnel may have crossed under the border fence into Israeli territory.

"If I were defense minister, I would order the IDF to take action tonight to destroy the new tunnels," said Bar-Lev at an Israel Bar Association conference during which he also denounced the leadership of Defense Minister Moshe Ya'alon and Prime Minister Benjamin Netanyahu as "hesitant."

According to Bar-Lev, "Hamas has returned to digging tunnels and one or more of them may have crossed the border fence, attacking the sovereignty of the State of Israel. We can't default to (the situation) on the eve of Protective Edge. The hesitancy in government and security of the Prime Minster harms the IDF's deterrence capabilities and abandons the fate of the residents who live near Gaza to the whims of Hamas."

Bar-Lev continued in his criticism of Netanyahu saying, "This is weak leadership, hesitant and obsequious, that characterizes Netanyahu and supports Hamas and Hezbollah to pull the rope against us. Under Netanyahu, Israel has lost the initiative against terror."

According to the MK, an opportunity was lost after Protective Edge to begin a political process backed by the international community to bring about the demilitarization of the Gaza Strip.