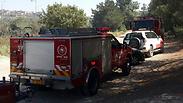 Twenty-two firefighting teams and a tanker were called to put out a massive brushfire near the settlement of Sal'it in the West Bank on Monday afternoon, as Israel experienced a heat wave.
Additional firefighting teams were called to aid in the fire and a request was made for the aid of airtankers. The wind drove the flames towards Sal'it, bringing the fire near the settlement's fence.
Firefighters across the country were at the highest level of preparedness Monday, due to a dry heat wave sweeping through Israel. Vacations were cancelled in multiple stations and more firefighters were present for each shift.
A dispatch point has been set up in the field to shorten the distance required for fire trucks to access important equipment.
Earlier in the day, dozens of teams of firefighters rushed to the scene of a large fire near Wadi Ara in the north of Israel and four aircraft circled above to provide support in an attempt to control the blaze. Firefighters from nearby Hadera said that the fire had burned some 50 acres of land and that it was under control.
A fire also broke out near the Atarot industrial zone in northern Jerusalem. Firefighters were working to keep the fire away from spreading towards nearby factories.
Another fire broke out near Yavne'el stream in the lower Galilee. Four firefighting teams and four airtanks were working to put out the fire.
Fires also broke out in Ein Zivan in the Golan Heights, in Safedm in the Beit She'an area and between Kafr Yasif and Abu Snan in the north, as well as in the moshavim Talmei Bilu and Maslul in the south.
Meanwhile, a section of Highway 2 in the southbound direction was closed for an hour Monday because of a nearby fire, creating traffic jams in the area.
One of the lanes on Highway 1 was closed for westbound traffic due to a fire raging near Lifta, in the southern outskirts of Jerusalem. A road leading to Highway one was also closed for traffic for a short period of time, creating traffic jams in the area.
A 70-year-old man collapsed in Givatayim in central Israel after suffering a heatstroke. Magen David Adom paramedics evacuated him to Tel HaShomer Medical Center in serious condition.
Electricity usage went through the roof, with some 9,800 megawatts of electricity used by 3:40 pm. For comparison, 11,320 megawatts were used in one day in June 2014, and the all-time record was registered in July 2012 when 11,900 megawatts were used in one day.
Temperatures in Tel Aviv, Ashdod and Netanya reached 41 degrees Celsius at noon Monday. Further north in Haifa and Zikhron Ya'akov, 40 degrees Celsius were measured. The Kinneret, the Negev and Eilat experienced 42 degrees Celsius, while the record temperatures were registered in the Jordan Valley - 43 degrees Celsius.
Jerusalem experienced only 34 degrees Celsius, while the lowest degrees were registered in Majdal Shams, which experienced only 30 degrees Celsius.
Omri Efraim, Roi Yanovsky, Ahiya Raved, Gilad Morag, Ilana Curiel, Hassan Shaalan and Itay Blumenthal contributed to this report.