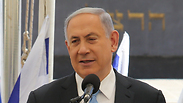 Prime Minister Netanyahu
Photo: Gil Yohanan
A series of unfortunate events of a confrontational administration
Unqualified ministers are hardly news in Israel's history of government, but never before have we seen such a confrontational administration which suffers a sever autoimmune syndrome, like Netanyahu's fourth administration. The current government is less likely to attack Iran than it is to turn on itself and its own citizens.
Who would believe that the day would come when we would miss Avigdor Lieberman as Foreign Minister? Well, perhaps "miss" is not the best word, but compared to deputy foreign minister Tzipi Hotovely, miss "the-prime-minister-promised-there-will-be-no-one-above-me" - Lieberman at least realized the significance of Israel's relations with the US. Hotovely, on the other hand, is positive that these relations are "excellent"' and will be sure to point out John Kerry and European foreign ministers mistakes. And if a male guest of State extends his hand for a polite hand shake, she'll decline to refrain from violating "Shmirat Niiah" – the Jewish orthodox restriction on physical contact between women and men.

Hotovely's appointment to the foreign ministry is no oddity in Netanyahu's current administration. Of course there are some appointments that seem to make more sense such as Bogie Ya'alon's appointment as Defense Ministry, Moshe Kahlon as Finance Minister and Yaakov Litzman as Health minister, however, most seem to have unfavorably tumbled upon ministries of which they have not the slightest clue or personal affinity and at times – even harbor hostility towards.

This is no national government, but a confrontational one.

Expectations from the incoming government are not high, to say the least. Yet, Netanayahu managed to stoop below them. The Likud has some good people, but the Prime Minister chose to either disassociate from them, or humiliate them, or both. Silvan Shalom wanted to retunr to the foreign ministry but in spite of his wish – and perhaps to spit him – he was sent to a downsized Ministry of Interior with a consolation prize in the form of an empty title – "Deputy Prime Minister". What are the chances that he invests what energy he has left from the ministry of energy in the leftovers cast to him? What are the chances of any substantial reform in the Ministry of Interior now?

Aryeh Deri who dreamt of a return to the Ministry of Interior will have to forgo his wish and assume a most important office he thinks nothing of. After all, the Ministry of Economy offers him little leverage among his constituency. How about Industry? And exports? None of these is in his field of expertise.

But hey, let's try to remain positive – at least he doesn't loath the industrialists.

Which is something that cannot be said about the feelings the Communications Minister and the "Minister at the Ministry of Communications" – Benjamin Netanyahu and Ofir Akunis – harbor towards free speech in the media, which they hate with every fiber of their being. Indeed they hardly attempt to conceal their intentions – Netanyahu secured the Ministry of Communications for himself and his loyal horse and gathered his partners' support for every move against the media he could possibly come up with.

Ayelet Shaked will not be the first Minister of Justice without formal legal education, only that judging by a long history of hostile remarks towards the supreme court and the Attorney General this may be considered a contrary appointment to the independence of law and justice. Netanyahu's pledge to protect the integrity of the supermen court is probably all too similar to his other promises.

Naftali Benet, who despises liberal ideology in the secular educations system – the county's formal education system to date - is a staunch member of the religious national movement, without the tolerance of his predecessors . Miri Regev might have made a fair minister of social affair and social services – that's the ministry she vied for. Instead she got the Ministry of Culture and Sports. Her first announcement, was that culture institutions that receive State funding "will have to be balanced, and if there is a need to censor them – I will". Indeed, a Minister of Culture that scorns culture. Dany Danon as Minister of Science, Technology and Space is almost an oxymoron.

It seems that the only one who was given a suitable appointment is Benny Begin – minister without portfolio.

Unqualified ministers are hardly news in the history of government in Israel, but never before have we seen such a confrontational administration, such as Netanyahu's fourth administration. This time around the ministers will not engage in delivering blows at each other so much as at the ministries themselves. The current government is plagued with an autoimmune syndrome.

I'm not even going to mention the peace process –this administration is less likely to attack Iran than it is to turn on itself and its own citizens. As for social-economic issues - all hope is lost.

This is the 34th government in a 67 year-old State. An average two-year government tenure is lethal for any attempt at responsible governance. Netanyahu is absolutely right – the system if faulty. But moreover, the bigger problem is the dementia rampant within his own residence.